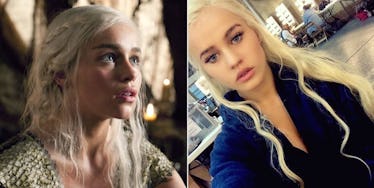 Emilia Clarke's 'GoT' Body Double Wants To Stay A Virgin Until Marriage (Photos)
HBO/Instagram
If you're a "Game of Thrones" fanatic, chances are you've seen Rosie Mac -- whether you know it or not.
Rosie is actually Emilia Clarke's body double for the show's almighty Mother of Dragons, Daenerys Targaryen.
Aside from being smoking hot, Rosie is a virgin and plans on staying that way for a while.
Basically, no guy in the Seven Kingdoms is getting lucky with this body double.
Not even the irresistible Daario Naharis.
Rosie recently told The Sun,
I've got very high morals. I read it when I was about 13, from beauty pageants, and it kind of stuck. I really like the whole thing of keeping yourself for your husband.
But that's not all. This bombshell also gave us the skinny on some of her promiscuous male suitors.
She told the magazine guys send her nude pics on Facebook all the time.
Seriously, guys, sending a dick pic just isn't the way to a girl's heart.
Try sending some flowers, instead.
This may look like the "Game of Thrones" character...
But this gorgeous gal isn't Emilia Clarke.
She's actually Clarke's body double, Rosie Mac.
The 18-year-old is known for having steep morals.
Although Rosie was engaged twice...
...she plans on remaining a virgin until she gets married.
She even wrote, "Virgin [until] marriage" on her Instagram account.
The British bombshell also revealed some of her suitors tried to get her attention by sending her nudes on Facebook.
However, those pervs don't know Rosie's mother is the one who actually manages the account, and apparently, she's not impressed.
Sorry, boys.
Citations: Emilia Clarkes Twice-Engaged Game of Thrones Body Double Rosie Mac, 18, Wows To Remain A Virgin Until Marriage (Daily Mail)