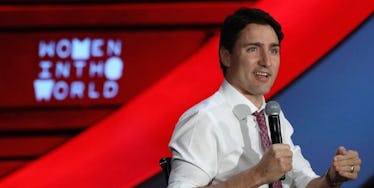 Lucky Prom Group Photobombed By Jogging Justin Trudeau And We're Super Jealous
REUTERS
My prom was a Friday-night boat cruise around Manhattan, which sounds fabulous -- minus my relentless sea sickness.
Do you know what would've made it a lot better, though? Justin Trudeau (and, you know, perhaps some Dramamine).
A lucky group of high school students in Vancouver had been taking their glamorous prom shots in the park when a surprise came running their way.
Nothing to see here, right?
Wait a second...
Look at the man jogging in the background... is that who I think it is?!
Yup. It's Justin Trudeau, the hunky Canadian prime minister himself!
I don't know a Canadian (or American, for that matter) who wouldn't love the opportunity to pose with JT — prom or no prom.
Even in a black tee-shirt and running shorts, Trudeau is definitely the prom king of our hearts.
The prime minister's photographer, Adam Scotti, posted to Instagram showing "the boss" out for a run, as part of a "side project."
Scotti wrote on Instagram,
A memorable moment for all. I always love to watch people's faces as they realise who just ran past, often several paces after he has passed.
I know a few ladies who are definitely more than willing to run behind and catch up. Heck, I'd probably dump my date on the spot and ask him to prom instead.
However, there is speculation that this photo at Stanley Park Seawall had been staged, but regardless, a glimpse at JT is well worth it.
Ever since the photographer shared the shot on both Instagram and Twitter, news outlets began sharing the iconic moment. If the pictures are legitimate, I guess I'll have to change my exercise route.
When he's not staying fit, you can find Trudeau focusing his efforts on programs for children...
Talking with tech leaders...
Looking for ways to help the middle class...
Supporting the LGBTQ+ community...
...and just being a super solid guy.
Keep slaying, JT!
Citations: adamscotti Follow (Instagram)