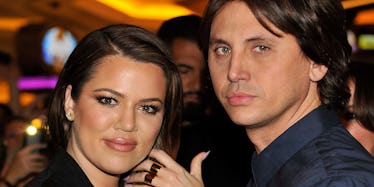 Kardashian BFF Jonathan Cheban Plans To Open A School For Wealthy Kids
Getty Images
Kim Kardashian's best friend forever, Jonathan Cheban, plans to open a school for the education of New York's young elite, Mashable reports.
And in case you were wondering, it'll be private, not public.
In an interview with New You, Cheban explained the idea behind what he's dubbed the International School of New York, saying,
I am developing the entire pop culture program for this school here in the Trump Tower. Wealthy kids from all over the world will learn things about private aviation, social media, quality of diamonds, types of caviar, mixed in with economics and other fundamental undergrad and grad classes.
I'm guessing the other fundamental grad classes include "Looking Unimpressed 301" and "Napping On Private Beaches: A Seminar."
So, will he start going by Professor Cheban from now on? In a sense, yes.
He said,
I'll basically be the Dean of Pop Culture at the school.
We all know it's tough being a wealthy New York youngster; sometimes, the shower pressure is so amazing in your penthouse that presidential suite showers can't compare. On that point, Cheban said,
This is the social stuff you need to know to survive in a city like this with a lot of money. If you are buying a diamond you need to know the clarity and if you are buying a private jet you need to know the different leathers and seats.
Good point, Chancellor Jonathan Cheban, PhD.
I can only imagine the type of "American Psycho" sh*t that goes on behind closed Trump Tower doors.
Citations: Kardashian BFF Jonathan Cheban is opening a school for wealthy kids to learn about caviar, private jets (Mashable)