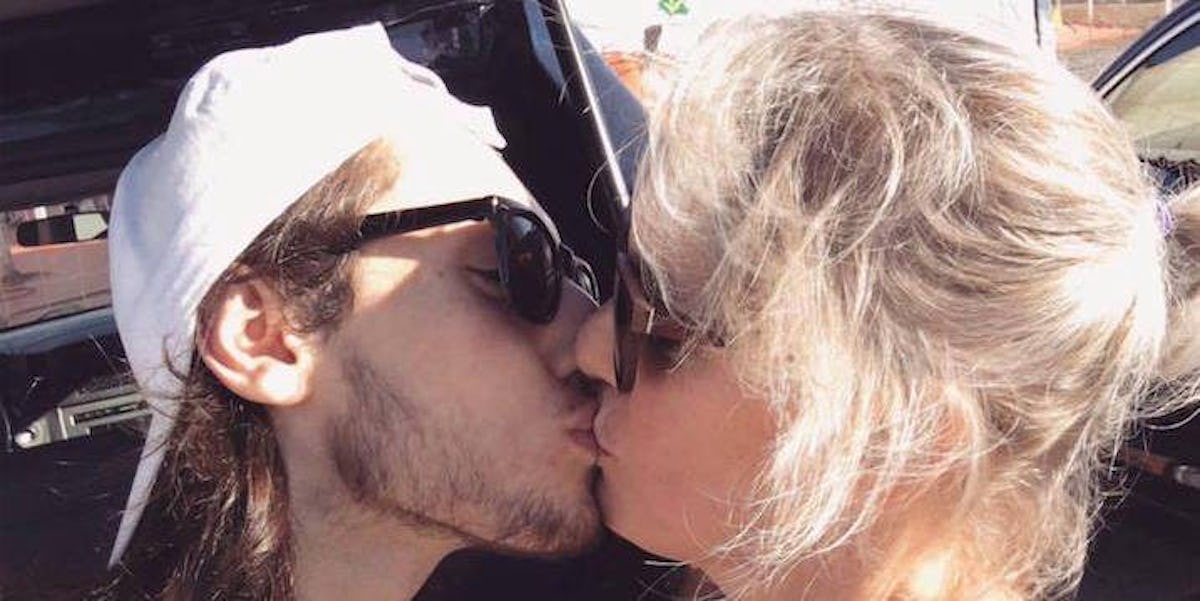 50-Year-Old Woman And Her 20-Year-Old BF Say They're 'Pretty Damn Freaky' In Bed
Facebook
50-year-old Jill Carpenter met who she believes is her soulmate, 20-year-old Eric Langley, online a year ago.
Jill, a vegan who runs an animal sanctuary in California, was immediately attracted to Eric's "mature" profile that said he was looking for "the one - not a sugar momma."
The two began chatting online, and the rest is history.
Jill told MailOnline of their connection, "He's very intelligent, is very caring and we have conversations that could go on for hours."
And apparently, he's not afraid to make his feelings for her clear. "He's very romantic and says I love you several times a day, he likes to kiss and a lot of men aren't into making out, he also likes to snuggle, it's amazing."
Along with that romance, of course, comes a pretty hot and steamy sex life, according to Jill.
She explained, "We have a great sex life, I think we are real hypersexual, pretty damn freaky for sure."
We have a great sex life, I think we are real hypersexual, pretty damn freaky for sure.
As you can imagine, Eric's family initially wasn't stoked about their son dating a woman 30 years his senior.
They questioned his attraction to her and encouraged him to try dating girls around his age, but eventually, they came around.
Eric explained,
My parents are both younger than Jill but they've said that since I've been in a relationship with her it has changed me for the better. They did ask me if I wouldn't just prefer someone in their 30s and asked why I want to date someone so much older when I have my whole life ahead of me. This relationship feels like it makes sense, we have an age-gap but we're incredibly happy and talk like we have always known one another.
Even though Eric's parents may have come around to the idea of their son dating an older woman, not everybody is quite so understanding.
Jill recalled an experience at the grocery store: "One time in a grocery store someone said 'Your son is being so helpful', I corrected them immediately and said 'Excuse me, but that's my boyfriend.'''
Eric added, "People stop and stare at us but we don't care, we are just enjoying the moment."
That being said, Eric did admittedly have to lose some friends as a result of his decision to date Jill.
He said, "I've had to let go of a lot of friends because they didn't understand."
But for Eric, the fact of the matter remains he has no desire to date any girl in his own age group:
I don't see young people as attractive, I like the fact that I'm with a mature lady. Friends and family ask a lot of questions about our sex life and I'm keen to dispel the rumours, me and Jill are very sexually active.
And it seems Jill really is the only one for Eric.
He explained, "It was love at first sight for me and I know Jill makes me happier than anyone else could."
Of course, the couple has to face a pressure most same-age couples don't have to deal with so soon: Their time together may be cut short as a result of Jill's old age.
To some people, that would be an excuse to end things, but Eric believes that's all the more reason to make the most of what they have right now.
"Jill doesn't like me to mention it, but we will have a shorter time together so I want to spend as much time as possible travelling with her."
Citations: 'We get mistaken for mother and son - but our sex life is amazing!' Woman whose boyfriend is 30 YEARS her junior says she squeezes his bottom so people know they're dating (MailOnline)