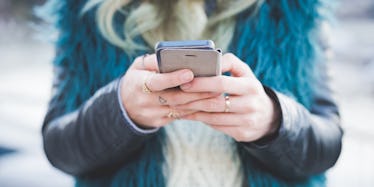 iPhone 8 Might Be In Short Supply During Release, So Don't Get Your Hopes Up Yet
Eugenio Marongiu/ Getty Images
Guys, I'm really starting to think Apple finds enjoyment in stringing us along when it comes to the ever-so-elusive iPhone 8.
Lately, there have been tons and tons of rumors about the phone's official release date, and most of the chatter is centered around a launch expected in September. However, even more rumors claim Apple might not even be ready for a release by then.
Thankfully, a new research note by BlueFin Research Partners obtained by Barron's cleared up our confusion but left us heartbroken with a sad iPhone 8 production update.
They claim the iPhone 8 will be launched in September but with a limited number of actual iPhones.
In other words, there might not be enough shiny new iPhone 8s to go around when they're rumored to be released in September... so that's a bummer.
According to the note, Apple will allegedly be making 13 million iPhone 8 units for their launch, which is 5 million units fewer than what the company originally predicted for the launch back in March.
An excerpt from the research note says,
Our ongoing reads reinforce our earlier view that [Apple] will offer only minimal units of the iPhone X at launch with improved availability in October. [Apple is making] a total of 13M iPhone X builds through September, a reduction of 5M from our original forecast in March.
Deep breath in, deep breath out. It's going to be OK, guys.
Don't freak out yet, though.
According to the research seen by Barron's, there is no current delay in ordering parts for the iPhone 8 (or as they call it, the iPhone X) at this time. So that's kind of a light at the end of the iPhone tunnel, right?
Another excerpt from the research note reads,
Importantly, we have yet to see any meaningful cancellation or even pushout of orders despite the reduced iPhone X projections as it appears [Apple] and the contract manufacturers are content to get in as many parts as possible as early as possible in order to satisfy what appears to be an insatiable demand for the OLED phone(s).
It's been reported more iPhone 8s will be available in October, one month after the rumored launch in September.
Well, it looks like we might have to wait until Halloween (or maybe even Christmas) for one of these bad boys, but something tells me it'll be worth it.