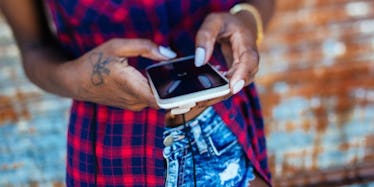 How To Get Instagram's "Follows You" Feature On Your iPhone For Stalking Purposes
Stocksy/Good Vibrations Images
The day has come, folks. Angle your selfie sticks accordingly, pucker your lips just so, and prepare to post. Instagram launched a "follows you" feature, and the social media game-changer has people talking. The long-awaited component adds even more motivation to take your pictures seriously (and get your stalking skills up to par).
Here's the 4-1-1 on Instagram's "follows you."
When you log on and check out other people's pages, there is now a designated spot after the profile information that indicates whether or not that person, business, or organization is following you. You'll see the username, description, and link, followed by a "follows you" (or at least hopefully a "follows you," as to avoid unnecessary social media drama).
It's a total pain logging on and sorting through your followers that aren't organized in any particular order. This takes the guess work out of who is following you and who isn't. It's clear, it's concise, and it's... totally going to cause some drama. Want to know why your ex is following you? How do you avoid your creepy co-worker from giving you a follow? Why in God's name is your "friend" choosing not to follow you, even though she's clearly aware your page exists? Things could get messy, so prepare yourselves.
If you're an iPhone user ready to engage in the "follows you" phenomenon, here's what you need to do.
First thing's first, hang tight. Presumably, this new feature will become available to you with the new iOS update. As of right now, I (an iPhone user) am stuck here without the follows you feature on Sept. 19. However, I'm OK with being in the dark about my followers. I know who's a true friend without the Instagram seal of approval.
The feature is reportedly available for Android users right now. Rejoice! (Or not, your call!) If you fall in this category, knock your socks off! Your Insta relationships are about to be tested (but hopefully you won't find any wacky surprises).
I fall into a smaller category, because it seems people have been waiting quite some time for this feature... and iPhone users are going to have to wait a little longer.
See it to believe it, friends.
Eh, I'm not quite as sold (sorry not sorry). I am, however, quite pumped for the video news. That's right: "follows fou" isn't the only change you can expect to see on Instagram. Now, when you check out a friend's video of her cats or your brother's concert, all subsequent videos will automatically play afterward. However, exiting the app will reset these video capabilities. And to be clear: videos of cats and concerts are nice, but they're not not required for this new feature. Regardless of the content, all videos will play automatically when you click.
And, rumor on the street is that Instagram is rolling out tests that'll rethink the three-grid appearance. Rather than have your three perfectly aligned boxes, Instagram has been toying with the idea of having four photos appear horizontally. That might throw your color scheme off a bit, but these are advanced times, friends, and we have to keep up with the updates. Luckily, my feed consists mostly of books and food, so it'll be a combo of refrigerator-meets-bookshelf.
If you're a color coordinator, though, beware.
Regardless of any changes, it's great to use the app to share your creativity, get inspired, and think outside the box (and do the occasional social media stalking when necessary). It's supposed to be your platform for inspiration, so don't worry about turning it into a who follows who contest. If someone's not willing to follow you on social media, it's probably not worth wasting your time IRL, so no sweat. But if you're curious, the games have certainly begun.
Happy posting.