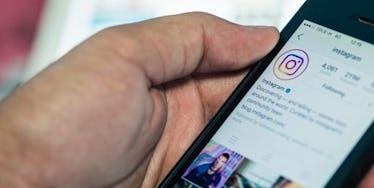 Instagram's New "Follows You" Feature Is Here And It's All We've Ever Wanted
Shutterstock
The wait is finally over, photographers, selfie virtuosos, and existential caption writers. Your social media media game is in for a change now that Instagram unveiled its "follows you" feature. It's time to really make those posts count, so choose your filters and angles appropriately.
When you log on and check out other people's pages, there is now a designated spot after the profile information that indicates whether or not that person, business, or organization is following you. It's the long-awaited tool people have been dying for... and it definitely has the potential to make things messy. Why isn't she following me? Why is my ex following me? Who is this guy? Oh social media, you toy with our emotions so well.
The update seems to only be available for Android users at the moment. However, if you have an iPhone, you will probably have to wait for the next iOS update before you can check out "follows you." Until then, you'll be forced to do things the old-fashioned way: by scrolling through your followers and keeping a tab of who has access to your profile.
Though this is something people have been anxious to see on the app — though I'm not entirely sure why, as it can definitely cause a bit o21st-centuryry chaos — the news unveiled rather quietly.
But the "follows you" unveil wasn't quiet enough to go unnoticed.
You can't fool your savvy users, Instagram.
Things have the potential to get awkward.
Take a look at "follows you" for yourself.
Groundbreaking, right? I look forward to explaining this feature to my mother, a new Instagram user with a total of three followers (my cousin, my aunt, and me) who happens to only be following those same three people. She has a lot to keep track of, so thankfully Instagram decided to make this update. It's going to make things dramatically different for her experience.
But "follows you" isn't the only change you can expect to see on Instagram. Now, when you check out a friend's video of her super adorable pup or your co-worker's new baby, all subsequent videos will automatically play afterward. However, exiting the app will reset these video capabilities. And to be clear: videos of puppies and toddlers are nice, but they're not required for this new feature. Regardless of the content, all videos will play automatically when you click (it was just a wild guess that you enjoy pups and tiny tots).
Perhaps what users should really enjoy is the fact that taking a less than suitable selfie doesn't mean you have to click "delete" and lose it forever. The archive app allows you to take down that subpar post and hide it from your profile, however, it won't be completely deleted. So let's say the lighting is really outstanding but you've noticed you smudged your lipstick. It might not be worth trashing entirely, so give this feature a whirl. You might have a moment where you reconsider the magnitude of said smudge and decide it's not awful enough to remove. I'm more excited about taking advantage of the archives than "follows you," but that's just me.
Personally, I kind of enjoyed not knowing who was following me and who wasn't. It took the guess work out of social media and let me just be. Documenting your life — from your career to relationships, family life, friendships, and everything in between — has become such a competition, it was nice to not have the option to see if someone decides to be so kind and follow you back.
While I guess it make sense that "follows you" would become a thing, I'll enjoy not using in until my iOS updates. Sorry I'm such a social media Debby Downer.
Check out the entire Gen Why series and other videos on Facebook and the Bustle app across Apple TV, Roku, and Amazon Fire TV.