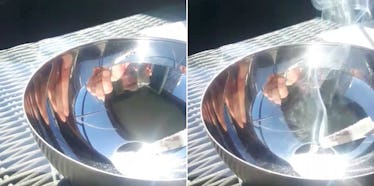 Scary IKEA Bowl Can Apparently Set Your Food On Fire By Itself, So Happy Cooking
Facebook
There's one thing you probably don't expect your stainless steel serving bowl to do, and that's catch things on fire.
It seems like such a farfetched idea, I know. Like, why would I need to worry about where I'm using my serving dishes?
Well, I'm sad to report that we can no longer be so naïve in the kitchen, because a popular IKEA bowl is reportedly catching food on fire by itself.
Swedish Facebook user Richard Walter told Aftonbladet, a Swedish-language news site, that he recently watched his grapes, catch on fire inside IKEA's "Blanda Blank" bowl.
How does this even happen? I still have so many questions.
Side note: The affordable 11-inch kitchen item retails for $4.99; however, I'd be willing to pay a bit more for a non-flammable option, to be perfectly honest.
According to The Local, Richard said he was munching on his grapes outside on a particularly warm day in Sweden when he started to smell smoke.
That's when he realized the smell — and the flames — were coming from his "Blanda Blank" bowl.
The Local, an English-language Swedish publication, translated his account of the terrifying moment as it appeared on Aftonbladet.
"I saw it was burning in the grape bowl. How is that possible, I thought. Then I saw there was one intense point where (the sun) hit the twigs, and that's where it started."
To recap: The stems caught on fire and ignited the rest of the grapes.
Richard shared a video of the same bowl burning a piece of paper to further prove his point.
IKEA allegedly told Aftonbladet they would "investigate what happened."
They followed up with The Local in an email, reportedly saying:
In risk assessment for the bowl Blanda it has been established that many different parameters would have to converge for the content of the bowl to overheat and that the risk for this to happen is very low.
Even with IKEA's reassurance that a fire is unlikely, I don't think I'd risk taking the "Blanda Blank" for a spin outdoors.