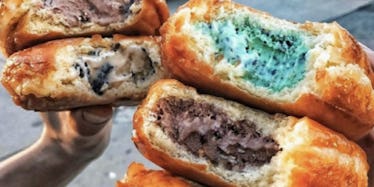 Ice Cream-Stuffed Glazed Doughnuts Exist And We're Dying To Take A Bite
B Sweet Dessert Bar
When you think of your favorite dessert, what comes to mind?
For me, it's ice cream first, followed a very close second: the doughnut.
Enjoying each of those treats separately is delicious, but just imagine the explosion of flavors you could experience if you could have them... TOGETHER!
Yup. It's definitely what dreams are made of.
Thankfully, an ice cream-packed doughnut isn't just a dream. It's now a reality, all thanks to Chef Barb at B Sweet Dessert Bar in Los Angeles, California.
The delicious treat is named Halo, and boy is it sent from heaven. The Halo is made using an ice cream of your choice, scooped into a mouthwatering and warm glazed doughnut.
According to their Instagram page, these treats are "hot on the outside, cold on the inside and yummy all over!"
Okay, am I the only one who's drooling right now?
The made-to-order dessert will cost you around $5 per sandwich (which is a great price considering the whole dream come true thing) and come in a wide range of flavors including vanilla, rocky road, ube, and chocolate malted crunch.
But the Halo isn't the only amazing dessert B Sweet offers their customers. You can choose from hot bread pudding, frozen bread pudding, coffees or teas, floats, merch, and an assortment of different weekly treats.
B Sweet also allows customers to order their delicious treats online for convenient in-store pickup. And if you're lucky, you might bump into one of Chef Barb's two food trucks roaming around the LA area.
I've seen tons of Instagram posts including soft-serve ice cream in fish and charcoal cones, but I haven't seen many folks post their ice cream in a glazed doughnut yet.
Get ahead of the trend by visiting B Sweet Desser Bar in Los Angeles, California.
Alright, I'm booking my flight to the West Coast right now.