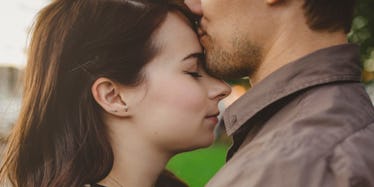 This Husband Did The Sweetest Thing For His Wife After She Endured Chemo
Ask anyone who's been through it or knows someone who has; battling cancer is no easy task. Enduring endless surgeries and rounds of chemo can be slightly alleviated, though, by supportive friends and family members.
One husband proved himself to be the most thoughtful of them all after surprising his cancer-stricken wife with 500 roses after her last chemo session. Brad Bousquet -- aka the best husband ever -- thought to celebrate his wife, Alissa's, last round of chemotherapy at the Methodist Estabrook Cancer Center in Omaha, Nebraska, by ushering in the 36 vases of roses all at once.
Her reaction to the overwhelming display of love? "Holy moly!" she said, "That is insane."
In a Facebook post, Bousquet said,
I wanted to do something special during this last treatment to celebrate the end of her chemo and to show her the tremendous love and support she has from her friends and family. I also wanted to honor her fight against cancer by providing a donation in her name towards breast cancer research.
Could this guy be any sweeter?! In another heartwarming twist, the florist offered to donate the profits from the massive rose sale to the Susan G. Komen Foundation. Humanity is looking pretty good, you guys.
Watch the video above to get your daily dose of sweet insanity.
Citations: Husband surprises wife with 500 roses to celebrate her last round of chemo (Mashable)