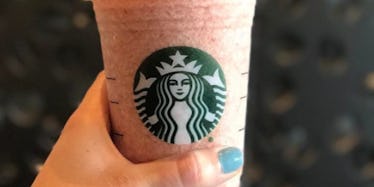 How To Order The 'Narwhal' Frapp At Starbucks, Because This Is One Mystical Bev
Instagram
Mystical creatures are having a moment right now, all thanks to Starbucks.
The coffee company's spokesman, Jarryd Boyd, revealed to USA Today that baristas are able to whip up frappuccino orders 36,000 different ways to customize treats that are sure to please even the most picky of coffee snobs.
So what's up next on the frapp formula list? Narwhals, of course.
Before we get too caught up with the latest all-star animal, let's revisit the creature that started the colorful frapp movement.
Our neon-loving hearts couldn't contain their excitement when the coffee chain unleashed the Unicorn Frapp.
Shortly after, Unicorn Lemonade was concocted -- an experimental beverage baristas attempted on their own.
Then, there was the Dragon Frapp -- an option when ingredients for the Unicorn Frapp weren't available.
Just when you thought the colorful craze was settling down (thanks to the release of the Midnight Mint Mocha Frapp), we're here to inform you the saga continues.
Why? Because pesky narwhals need their 15 minutes of fame, too.
We should warn you the "Narwhal" frappuccino isn't technically on the menu, but baristas are here to whip one up for you anyway (remember that whole "36,000" thing?).
"Our customers and partners are always coming up with creative customizations, and we're always excited to see people customize their favorite Starbucks drinks to their liking," Boyd said.
OK, so here's how to ask baristas for the narwhal-inspired bev:
Order a blended strawberry lemonade with vanilla bean powder.
Ask for a dollop of whipped cream (dollops vary in size according to customers' cravings).
Ask the barista to top it all off with green powdered sugar for extra excitement/Instagram worthiness.
Voila! There you have it — the "Narwhal." Make sure you take lots and lots of pictures so everyone on your Instagram feed knows you've tried one.
"People are gravitating toward vibrant colors," beverage development manager Ryan Coombes said in a statement.
Well, that's obvious.
Enjoy this treat while you can, because something tells me by the time you get to the counter, there's going to be another frapp stealing the spotlight.
Citations: Narwhal Frappuccinos Are Real, and Here's How to Order One! (POPSUGAR), How to order the Narwhal, Dragon and Mermaid at Starbucks (USA Today)