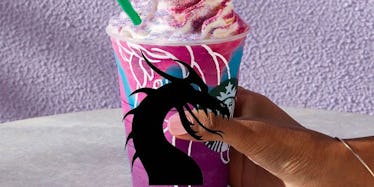 Starbucks Just Released A Magical Dragon Frappuccino, But No One Noticed
Starbucks/Pixabay
Ordering a plain 'ol cup of joe at Starbucks is so passé these days that mythical creatures have taken over the menu.
While you were obsessing over the new Unicorn Frappuccino and using the latest drink as beauty inspo, Starbucks paid homage to another nonexistent animal with its new Dragon Frappuccino.
Consider it the redheaded step-child of the Frappuccino menu.
The unicorns were so in demand that some stores couldn't keep up with the colorful drinks, so there was nothing left to do but create another equally-colorful frapp in honor of animals that don't actually exist in real life.
When there's a shortage of color, you have to deliver.
We are so blessed to witness the creativity.
Without doubt, the dragon and unicorn enthusiasts are among the baristas' favorite customers.
Let's just hope those ordering the zany concoctions aren't holding up the line. Some of us just need our iced tea before work. No need to make the morning commute more difficult than it already is, dude.
While, yes, the drinks are certainly a caffeinated experience to be treasured, there are plenty of things about Starbucks going unnoticed.
The company is planning to "fight for the future of coffee," according to a press release.
"[Starbucks] will leverage its green coffee purchase power to ensure that healthy, rust resistant coffee trees are planted – yearly –  in coffee growing regions most impacted by climate change," the release reads.
The coffee giant is also one of the companies sending recruiters and resources to the Dallas Opportunity Fair, an event geared toward helping 16-24-year-olds who are not in school or working.
Pretty neat, right?
While all this has been underway, we've been losing our minds over ingredients that'll make someone think Lisa Frank threw up in a cup.
OK, maybe I'm being harsh. There's nothing wrong indulging in the latest must-have menu item, but let's not forget to give credit where credit is due.
On another note — do these mythical creatures in a cup really taste as good as they look on your Instagram account?
Just a regular cappuccino for me, thanks.
Citations: Starbucks also lowkey dropped a Dragon Frappuccino this weekend (Hello Giggles), Top U.S. Companies to Host Opportunity Youth Hiring Fair in Dallas (Starbucks)