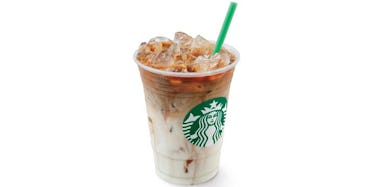 Starbucks Will Give You Free Macchiatos This Week, Here's How To Get One
Starbucks
Starbucks, the coffee chain after our espresso-obsessed hearts, is offering yet another BOGO promotion to kick off the month of August. The company announced its "Meet for Macchiatos" promo for U.S. customers on Facebook, saying that from Aug. 3 to Aug. 7, Starbucks will give you a free macchiato if you purchase one between 2 p.m. and 5 p.m. (They had me at free coffee.)
Since August tends to be the literal worst heat-wise, I'd suggest opting for an ice cold macchiato instead of a hot one.
Luckily, there's no shortage of iced macchiato variations at Starbucks. In fact, according to its website, Starbucks' very first menu item was a macchiato, so they are total pros.
You've got the Caramel Macchiato.
It has been on the menu since 1996 and is drizzled with tasty caramel drizzle (aka you cannot go wrong).
You've got the Iced Cinnamon Almond Milk Macchiato.
A dairy-free drink made with cinnamon dolce syrup and caramel drizzle.
You've got the Iced Coconut Milk Macchiato.
Also dairy-free, this is a cold version of the regular Coconut Milk Macchiato Starbucks released in February 2017. Expect chocolate-packed mocha flavor with — this is, like, Starbucks' staple — caramel drizzle.
You've got the Latte Macchiato.
Slightly confusing, because it is a latte or a macchiato? Starbucks describes the difference between its OG "espresso macchiatos" and the "latte macchiato" like this,
A Starbucks Espresso Macchiato is two shots of espresso marked with a dollop of foam. A Starbucks Latte Macchiato is made with steamed milk, foam and shots of espresso.
Okay so steamed milk + espresso macchiato = latte macchiato. Try ordering it iced!
Confusion aside, come Thursday, Aug. 3, you'll be able to try all four of Starbucks' macchiato offerings for the price of two. Go ahead, mark yourself as 'going' on FB, tell your friends, and let's get ready for a highly caffeinated end of the week.
Say it with me, "I love free coffee!"