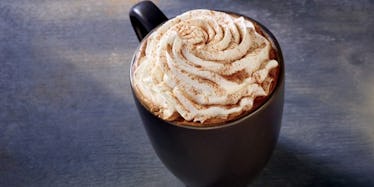 Here's How To Drink A Starbucks Pumpkin Spice Latte At Home, Because Why Not
Starbucks
In case you somehow missed it, the OG Pumpkin Spice Latte from Starbucks is back. The beloved coffee company announced the news via Facebook Live on Monday, Sept. 4, and unlike my tastebuds, my wallet wasn't ready. Let's face it: A seasonal PSL habit has the potential to do some serious budget damage. However, the good news is that a PSL is fairly easy to whip up DIY-style. Here's how to be your own barista and drink a Starbucks Pumpkin Spice Latte at home.
Option one: Feeling fancy? Make your own PSL "sauce."
A pump or three of Starbucks' PSL sauce will cost you 60 cents, based on my PSL order this morning, so having a stash of a homemade version just might eliminate your need to hit up your local 'Bucks quite as frequently. To make it, simply combine a can of pumpkin pie filling with water, pumpkin pie spice (McCormick makes a ready-to-use one), and sugar in a sauce pan to taste.
If you're looking for step-by-step instructions to follow, All Recipes has a simple recipe by Stephanie Van Luven with solid reviews from people who've actually made it. One reviewer wrote,
Great Recipe, I hate having to pay for something I know I can EASILY make and I know what ingredients are in it.
Option two: Get Starbucks' bottled drink.
Skip the DIY altogether and pick up Starbucks' ready-made bottled Pumpkin Spice Latte. With a suggested retail price of $2.79, the bottles are an affordable alternative to the one you'd order in at a café — and yes, they taste just as good.
Option three: Buy a pre-made sauce.
Cost Plus World Market sells two popular alternatives online for just over what one PSL will cost you. They have Torani's Pumpkin Pie Sauce and Blackberry Patch's Pumpkin Spice Syrup, and each retails for $5.99.
With the sauce, first, make your espresso. Brew a single or double shot depending on your caffeine preference. If you don't have an espresso maker, an instant option like Starbucks VIA might work best for you. (Use your favorite coffee mug either way.)
Add your sauce next. Since you're the barista, you can make your PSL as sweet or unsweet as you'd like. Once you've added your sauce to your espresso, stir it in well. And then add the milk. Pro tip: For a similar frothy texture you'd get at Starbucks IRL, use a French press to aerate your milk without a frother.
Now all that's left to do is snuggle up with your homemade PSL and sip on autumnal vibes.
Option four: Try Starbucks' Pumpkin Spice Flavored Ground Coffee.
Don't trust your latte skills? Brew a pot of Starbucks' Pumpkin Spice Flavored Ground Coffee ($9.99 for an 11-ounce bag). Since the grocery store exclusive is already loaded with pumpkin flavor, you just need to add milk and sugar to taste. So easy!
Okay PSL fans, which option will you try first? I think I'm going bottles.