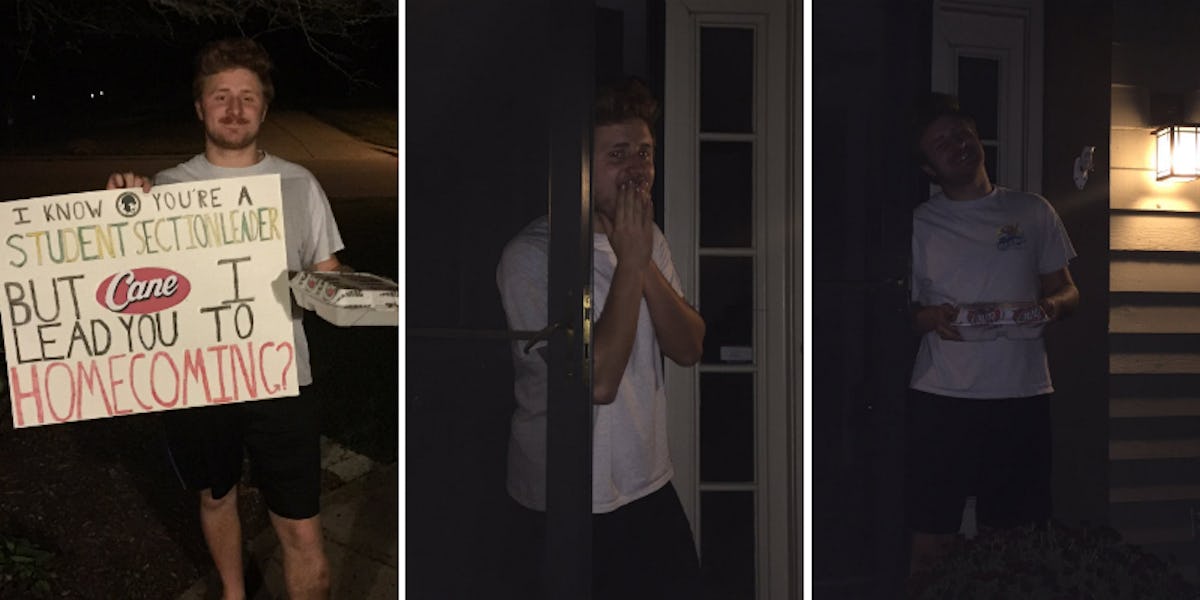 This Teen Who Asked Himself To Be His Homecoming Date Deserves To Be Crowned
Twitter
Unless you were one of the chosen golden few in high school, chances are you probably had to face at least one school dance alone.
In my case, I spent most of my dances alone. It's really hard to lose your virginity that way.
Is it just me, or is social media making not having a date just that much worse?
When I was young and full of joie de vivre, before life tore me down like a poorly rooted tree in a windstorm, not having a date to homecoming or prom was not the end of the world.
Of course, we didn't have Twitter, Snapchat or Facebook to document our loneliness back then. (It was 100 percent acceptable to document loneliness on MySpace.)
Like, how is a 17- or 18-year old supposed to be this romantic?
Ugh I'm such a princess, I would probably cry #promposal pic.twitter.com/4GGO9ZF39p — Homecoming Proposals (@besttproposals) April 21, 2016
Like... WHAT?! I had a significant other in high school, and I had to remind them that they had to take me to homecoming because that is a thing teens do.
Where did this kid even get a horse drawn carriage anyway? This is 2016!
Anyway, if you're like me and 18-year-old Joe LaRue of Dublin, Ohio, then maybe you haven't experienced this romantic gesture either.
That's fine, because if we take a note from Joe, you can.
LaRue told BuzzFeed News,
My mom asked me if I was going to homecoming, and I was like, 'No, I can't find a date, so I'm just not going to go.' And she said, 'It would be kind of funny if you asked yourself.'
Good lesson in self-love!
He and his mom plotted out the perfect way to ask himself out. Finally, he realized what would truly make his night -- some of his favorite food -- fried chicken from Cane's.
It took LaRue and his parents three hours to make the perfect homecoming proposal poster for him.
We are so happy you're happy with yourself, LaRue! Wishing you many, many more years together.
So romantic. Honestly, this is #goals.
Citations: This Teen Who Asked Himself To Homecoming Is The Hero We Deserve (Buzzfeed)