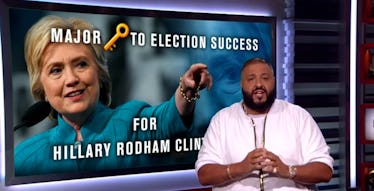 DJ Khaled's 'Major Keys' For Hillary Clinton Are The Only Advice She Needs
YouTube
Game's on, Hillary Clinton.
I know you've got a building full of people telling you how to win this election, but the only person you need to listen to is DJ Khaled.
He made an appearance on The Nightly Show with Larry Wilmore Wednesday, who said,
It's clear that the future of America rests solely in the hands of Hillary Clinton. Look, Hillary, we are at a level red apocalyptic shit show. We desperately need you to keep us from imploding into the abyss, girl.
Enter DJ Khaled: He's got some "Major Key" notes for the presidential hopeful that are actually incredible.
Let's break them down.
"Keep your debate game tight, you know Trump's gonna fight dirty. But if you come swinging that upper cut and that boom, knock out, you gonna be all right."
"Hillary, you're a boss now. When you're in the White House you're not just the First Lady, you're not just the Secretary of State -- you're number one. You are that special cloth."
"Getting endorsed by Barack -- that's my guy, that's the dawg."
But then DJ Khaled throws a little Ciroc into the mix:
And he signs off by saying he's officially endorsing Hillary Clinton.
Woah, now that's a winning formula. I fully endorse this.