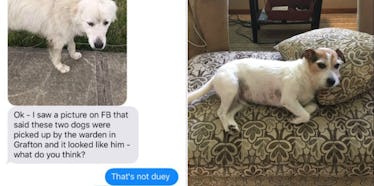 Hilarious Texts Prove Teen's Mom Has No Idea What Their Family Dog Looks Like
Twitter
If your dog got lost right now, would you be able to tell it apart from another dog?
Most people would answer "yes" to this question, but 17-year-old Jeff Squires recently learned that his mom has no idea what their 7-year-old dog, Duey, actually looks like.
Jeff's mom, Terri, texted him asking if Duey was safe at home after she saw a Facebook photo of a dog who had gone missing in their area.
Here's Jeff and Duey, BTW:
Jeff couldn't verify whether or not Duey was home safe because he was at Guitar Center when his mom texted him. So instead of waiting around for a response, she followed up by sending her son a photo of the missing dog.
The rest was -- as they say -- Twitter history.
So basically, Jeff's mom thought this furry white dog was Duey, even though Duey has brown in his face.
I know, these dogs look nothing alike! In addition to the coloring, they're completely different sizes.
Jeff shared the hilarious text thread he had with his mother about Duey's whereabouts to Twitter on June 28, and the post already has over 100,000 retweets, likes, and a ton of hilarious replies.
"Is this Duey?"
Oh, maybe this polar bear is Duey.
Or maybe this cat is Duey!
This moose could be Duey, too.
Whoa, all these animals sure look a lot like Duey, especially the moose.
User @Neenaa__ shared a similar story about her father.
It seems like forgetting what the family dog looks like is a pretty common occurrence. Who knew?
Jeff tells Elite Daily that Duey's been with the family for seven years, so I'm sure he's just as shocked as Jeff about his dog mom not knowing what he looks like.
He's probably walking around the house like this:
If you're wondering, Jeff assures Elite Daily that Duey is currently at home "safe and sound." But it doesn't change the fact that his mom's blunder made for a golden Twitter moment.
Isn't the internet great?