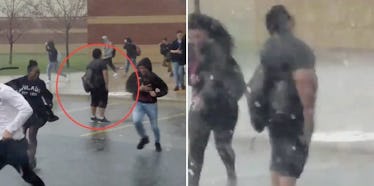 Badass Kid Becomes High School Legend After Standing Still During Hail Storm
Twitter
In high school, everyone wants to be recognized as an unforgotten legend.
The only problem is no one really knows how to go about achieving legend status. An easy way to work your way there is to be the first kid in your school with enough focus to hit a full-court shot in gym class.
If that doesn't work, you're going to need to find another strategy. Try pulling an epic senior prank on all of your teachers by getting them to sing Smash Mouth songs without knowing it.
Now, if THAT doesn't work, just hope there's a hail storm in the forecast for next week.
In a new viral video, we're introduced (from afar) to a fearless, badass high schooler without a care in the world.
The world was made fully aware of his carelessness after a fellow student filmed him standing completely still in the midst of an intense hail storm.
As students poured out of the school's doors and ran for cover into cars and school buses, this kid just stood there.
Nothing could stop him. Nothing could hurt him. Oh, and he was even wearing shorts and a T-shirt while everyone else used their jackets to shield themselves from frozen water.
Behold a newly crowned high school legend now known as "Hail Boy."
The rest of us would have reacted like this...
But Hail Boy? He can't be fazed.
The rest of us are just witnessing greatness.
Sure, he makes standing in a hail storm look awesome and all, but some of us are a little concerned. Is he lonely?
Apparently, no. He was simply testing out his "waterproof headphones," according to another student.
Though, some people think the real story behind his bravery is he just got stood up by a girl he likes.
Screw all of the wacky theories, this... This is HAIL BOY.
And just like that, a legend is born!
Citations: This is how you become the boss legend of high school, meet, Hail Boy (Mashable)