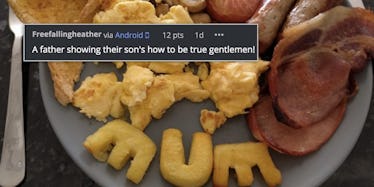 Hidden Message Behind Guy's Breakfast For Ex-Wife Is Melting Internet's Heart
Imgur
Divorces aren't easy, and it takes strong, respectable men and women to conquer marriage break-ups without hatred and grudges.
A woman from the United Kingdom is six weeks into a fresh divorce and woke up on Mother's Day (March 26 in the UK) without her sons in the house for the first time in 12 years.
They were with their father -- aka her ex-husband -- which made for an extremely emotional morning.
Luckily, her ex-husband ignored all harsh feelings left behind from their divorce and went out of his way to make sure she felt special on Mother's Day.
Instead of ignoring his ex, he cooked her a delicious breakfast, and it will make your heart melt.
The woman, named peglegmeg25 on Imgur, posted the picture of her breakfast on Imgur. She said her ex-husband texted her and told her to come over at 11 am.
When she got there, he gave her flowers, chocolates, a card and a meal fit for a queen.
He even wrote the word "Mum" in the potatoes.
(I don't know what caused their divorce, but this dude seems like a winner to me.)
She captioned the picture,
6 weeks ago me and my husband split up. This morning for the first time in 12 years I woke up on Mothers Day without my sons, as they were with their Dad. I was a touch emotional when my ex text me, told me to come to his at 11am. I walked in to him cooking me this, flowers, chocolates and a card. Zak I know you lurk on here and I also know you hate my guts right now. But you got over it to show our sons how to treat their Mum on Mothers Day. Thank you. Also tell Finn to have a shower.
Although the couple isn't together anymore, her ex-husband took the initiative to treat her with respect to show his sons how they should treat their mom on Mother's Day.
Adorable, right? Talk about... um, breakup goals?
Commenters online are showing respect for the ex-partners and admire the ex-husband's willingness to show their sons how to treat a woman with respect.
"This is Divorce 101 on how to raise happy, functional kids who respect both parents."
"Your kids are going to grow up pretty great with parenting skills like that."
People are sending their "best wishes" to her whole family.
Her post is making people cry.
"A father showing their sons how to be true gentlemen!"
"Your children have a wonderful set of parents."
"All men. Be more like this guy. All women, be more like this woman."
No information has been disclosed about why they divorced, but people seem to be looking past their troubles and commending them for their astonishing parenting skills.
It warms my heart to know this mother wasn't alone during Mother's Day, regardless of what may have sparked the end of her marriage.
Citations: My ex made me breakfast. (Imgur)