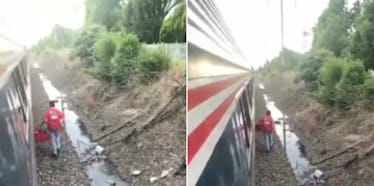 Heroic Delivery Man Brings Pizza To 'Hangry' Passenger Stranded On Broken Train
Twitter
Do you know what makes every single terrible situation a lot better? Pizza.
No matter what struggle you're being faced with, a savory slice pizza will help you make it through -- even if you're stranded on a train that's broken down in the middle of the woods.
Unfortunately, passengers on a stalled Amrak train were faced with this struggle when they were stopped mid-journey for more than an hour on their way to Washington, D.C on Sunday.
If you've ever been stuck in a vehicle for over an hour, you're probably aware of the frustration people began to feel after their train remained stagnant for a long period of time.
One passenger named Mitch Katz was getting "hangry" and decided to order pizza to the train... and the delivery man truly delivered.
After ordering the pie, Katz posted a video on Twitter of the dedicated delivery man trekking through the woods toward the train tracks with his pizza at hand.
He captioned the video, "Stuck on @amtrak 161 got hangry and problem solved."
Look at that guy! He might as well be wearing a cape because he's a damn hero.
After receiving his savory pies aboard the train, Katz thanked Dom's Pizza for feeding him since "Amtrak wouldn't" (ouch).
Of course, he wasn't the only one stranded on the Amtrak train and other hangry passengers noticed the pizza pie in no time.
One woman named Marcy Sutter tweeted, "SOMEONE ORDERED PIZZA TO THE BROKEN DOWN TRAIN #amtrak 161."
Hallelujah! Food has arrived for the stranded commuters!
Once Katz realized he wasn't the only one struggling on the train, he decided to share the wealth. With a simple tweet, he invited others to indulge in the pie with him.
He wrote, "Chris come grab a slice."
I can assume a parade of hangry passengers swarmed Katz for his pizza before the train started rolling again.
According to ABC, the train started rolling again and arrived at Union Station in the nation's capital three hours late.
Although Katz was kind enough to share his delicious goods, the delivery man is the real MVP of this story.