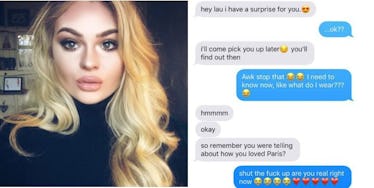 Selfish Guy Tricks GF Into Watching Soccer On V-Day With Surprise 'Paris' Trip
Twitter
I've been a pretty naïve and gullible person virtually my entire life, so I've had plenty of experience of being duped on the reg.
I like to think I'm capable of handling an occasional prank. This one, though, is just a little too savage for me, and I have no idea how Laurie Marie Kerr handled it the way she did.
On Valentine's Day, Kerr, 21, tweeted out a few screenshots of a text conversation between her and her boyfriend, Jay.
The conversation began when Jay texted her saying he had a surprise in store for her.
I see Paris, I see Barcelona...
Jay, seriously, don't mess with her. She is having HEART PALPS, AND SHE CAN'T EVEN TEXT CLEARLY.
Instead of booking a romantic getaway to Paris and/or Barcelona for Valentine's Day, Jay actually just wanted to have her over his place to watch the Champion's League soccer match between the two cities.
So brutal.
Kerr's heart palps had probably developed into a full-blown heart attack by this point, thanks to her "fucking moose" of a boyfriend.
She promised in her tweet, which has already received 65,000 favorites, to smack her boy straight into 2018 the next time she sees him.
While this had to have been the letdown of a century for Kerr, who hails from Ballymena, Northern Ireland, people on Twitter reminded her to look at the bright side.
Can you even imagine? Ellen, get on this, PLEASE. And Kerr, leave Jay at home if Ellen really does give you the tickets.
It seems like Kerr is a better sport about being trolled than I am, though. She managed to enjoy her Valentine's Day, despite such a savage prank.
Sure, I guess that sounds nice, but are you in a hotel bed in Paris with a picturesque view of the Eiffel Tower outside your window? Are you frolicking on the beaches with your man in Barcelona?
Sigh. Good thing she's not as petty as I am.
Citations: Man trolls girlfriend with the most brutal Valentine's Day message ever (Mashable)