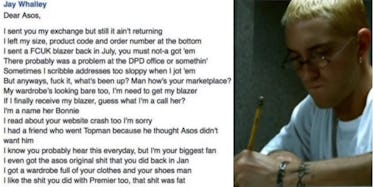 Guy Trolls Clothing Store With Eminem Lyrics And Store Spits Rhymes Right Back
Facebook/YouTube
OMG, yes! When was the last time you heard "Stan" by Eminem?
Jay Whalley from the UK trolled ASOS by spitting some ill-mannered lyrics at the store on Facebook.
He was complaining about a delivery that never came.
Jay posted his complaint on Facebook with the caption, "Just sent this ASOS to find out about my return. Thought i'd be creative instead of kicking off."
It's so good. He opens with,
Dear ASOS, I sent you my exchange but still it ain't returning. I left you my size, product code and order number at the bottom. I sent a FCUK blazer back in July, you must not-a got 'em.
The lyrical genius goes on to say he "heard about your website crash too, I'm sorry."
And ends with, "Anyways, I hope you get this man, hit me back, just to chat, truly yours, your biggest fan. This is Jay."
For context, this is the first verse of "Stan." Remind yourself of the musical genius that is Eminem below:
Did anyone else find this video pretty harrowing upon first watch?
Anyway, ASOS got back to Jay with an equally awesome response:
YES. So much love for Rianna over at ASOS.