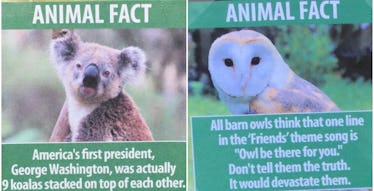 This Guy Trolled LA Zoo By Replacing Animal Signs With Hilarious Fake Facts
Obvious Plant/Facebook
We thought this prankster outdid himself with his Father's Day gag. But major props to him for this latest joke that will make you LOL in the office, unless you have no soul. If that's you, it's probably best to move on now.
Jeff Wysaski destroyed children's innocence with hilarious fake animal facts that he stuck up around Los Angeles Zoo.
Some of the best "truth bombs" were about birds having the ability to see ghosts, penguins who wear tuxedos to prove their business prowess and the "fact" that George Washington was actually a load of koalas stacked on top of one another.
Take a look at his fine work:
He posted the pictures on his Facebook page, Obvious Plant, with the caption, "The LA Zoo is now a little more interesting."
What's not to love, right?
But naturally, there are always going to be a few buzzkills. There are so many positive comments under his post that it's actually hard to find anything troll-worthy.
But I had to include this one:
Haha! YAWN.
Go home, J.L. Robert. No one needs your negativity.