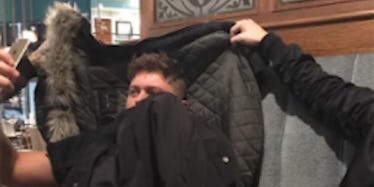 Guy Uses Genius Snapchats Of Himself 'In Bed' To Avoid Hanging Out With Girl
Twitter
In an attempt to halt communication with a woman who was crushing a little too hard, 20-year-old James Greatorex went to extreme lengths in order to enjoy a quality night out with his bros.
While us regular guys may tell someone we're "just busy" or we're "calling it a night" and will pick things up tomorrow, Greatorex wanted to enforce the fact that he wouldn't be responding anytime soon.
So instead of a simple response to the woman's advances, he utilized a few puffy coats, Snapchat's black-and-white filter and some heavy eyelids to convince her he was in bed instead of out with friends.
I usually frown upon the general concept of ghosting, but it's hard not to find this guy's attempt to get out of texting a girl to be anything but masterful.
"The reason I pretended to be in a bed was because a girl continuously sent me naked pictures of herself, which I really didn't enjoy," Greatorex told MetroUK.
He continued,
I was with my friends Matt, Pippa, Jade and Joey at Portishead Wetherspoon's […] when one of them joked my coat could be used as a bed. Then Matt held the coat behind my head and everyone agreed it did! Joey grabbed the other side so it would look like a pillow, whilst Jade passed me her coat to use as a pretend duvet!
The gig was up after Greatorex posted his efforts to Twitter for the world to see, where he was met with a bag of mixed responses.
While some women deemed his actions to be the reason they suffer from trust issues, others applauded the gag as something witty and entertaining.
I'm going to have to side with more humorous aspect of this whole Snapchat debacle. It sounds a lot more like this kid was just having fun, and there was no real malicious intent behind his makeshift bedroom setting.
Also, why has no one addressed the fact that he was being bombarded with unwarranted nudes?!
If anything, this girl sort of had it coming.
Citations: Guy successfully pretends to be in bed while out with friends to avoid talking to girl Read more: http://metro.co.uk/2017/01/17/guy-successfully-pretends-to-be-in-bed-while-out-with-friends-to-avoid-talking-to-girl-6386312/#ixzz4W2EpK2Av (Metro UK)