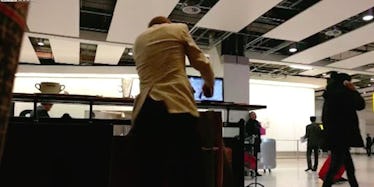 Enraged Guy Goes Full Hulk, Punches Laptop And Quits Job In Airport Meltdown
Everyone deals with stressful situations in their own way.
When a mental breakdown is imminent, some people embrace their inner-2007-Britney-Spears, reach for a razor and shave their heads as they simultaneously cry and mutter obscenities under their breath.
Other people deal with their problems by turning into an angry rage-monster that could give the incredible Hulk a serious run for his money.
Remember when we told you about that body builder that slapped a judge and pulled out his penis when he didn't win first place at a competition?
Well, if you thought that man had some serious anger management issues, just wait until you see some of the businessmen hanging out at Heathrow Airport in London, England.
Someone recently captured a video on their cell phone that shows a man in a suit talking on his phone as he does work on his laptop.
However, this isn't the typical conversation you'd expect someone to be having with their boss.
This guy's employer really seems to be getting on his nerves because he gradually becomes angrier and angrier as the conversation continues.
After yelling into the phone for some time, this hot-headed dude finally reaches his breaking point.
Out of nowhere, he goes full-on hulk by punching his laptop and smashes his screen.
Then he basically tells his employer to "fuck off" by quitting his job right there on the spot.
But wait, it doesn't end there. Apparently, this guy was just getting started.
After breaking free from the shackles of his employer, he continues his violent rampage by throwing his phone onto the ground.
Once he successfully smashes his cell phone into smithereens, his rage seems to subside a bit.
But the ride on this emotional rollercoaster still isn't over yet.
The crushing reality sets in as the dude seemingly realizes he has a pile of ruined electronics and no job, as he sorrowfully hugs his destroyed laptop for a moment.
Then this sad man packs up his broken belongings and walks away.
It just goes to show that destroying your electronics and your career is never a good way to deal with your problems.
Citations: Enraged guy quits job and destroys Laptop! (Live Leaks)