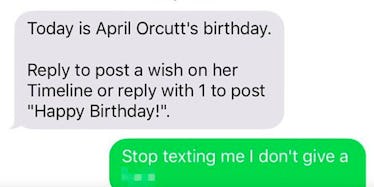 Guy's Painful B-Day Message Fail Is Proof You Can't Ignore Annoying FB Alerts
Twitter
Texting faux pas happen to the best of us. The most traumatizing faux pas probably include taking a screenshot of a conversation with an jerk to send it to your friends, but then you send it to the jerk, instead.
Then they're like "Um???" and you have to act like it was some sort of accident? Like, "Ooooh, I have no idea how I took a screenshot, sent it to you and wrote, 'look at this effing moron.'"
Or, you know, there's sexting a relative instead of your significant other. That's probably the worst. Sorry, grandma.
But accidentally sending someone a hateful message on their birthday due to lazy reading comprehension -- that's bad, too.
Jonathan Hunter Behrle thought he was the victim of an annoying spam message. Naturally, he texted back,
Stop texting me I don't give a fuck.
However, unbeknownst to our dear Jonathan, the text he sent to this bot automatically posted his message onto poor April's Facebook wall.
Imagine, in the midst of celebrating your day of birth, you receive a notification -- and it's from your beloved friend Jon! What delightful memory will he share? What heartfelt sentiment will he post?
And then, you discover Jonathan wrote this:
Jonathan... why?!
April replied,
Excuse me what?
(As one does when they're told to stop texting someone because they don't give a fuck, especially on one's birthday.)
Jonathan tweeted out his mistake regarding the FB alert and wrote,
Probably should've read that more carefully.
Or, maybe, he can make it a new birthday tradition!
Every year on my birthday, my family and friends will send me love-filled texts or post on my Facebook wall with messages like "I wish you were never born" and "Happy one year closer to the cold embrace of death."
My loved ones are so silly, LOL.
Citations: 'I probably should have read that properly': Man's VERY rude reply to a text he thought was spam gets posted on his friend's Facebook wall for her birthday (DailyMail.com)