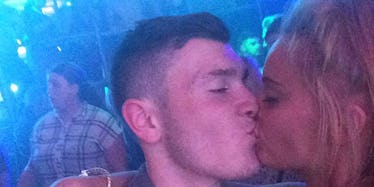 Guy Cheating On His Girlfriend Gets Called Out In An Epic Facebook Post (Photos)
Facebook
A warning for the amateur Don Drapers of the world: In the age of information, it takes a bit more work to get shady and stay shady.
When Pippa met Matt out one night in the UK, she mistakenly copied his number incorrectly (slick, Matt). No worries!
The pair took photos that night (really, dude?) and Pippa posted on Facebook in the hopes of finding him again.
Friends shared Pippa's post like crazy, perhaps more than she'd expected.
Uh oh, a mutual pal tagged Mystery Matt's GIRLFRIEND (come on, dude) in a comment. Fellow users respond with excessively British insults.
Pippa expresses her shame and disappointment. Can't a girl find love these days?
Oh, Matt. You could have had it all... If only you hadn't broken every rule of deception ever created.
Next time, buddy.
Citations: Cheating Guy Gets Busted Big Time On Facebook (Unilad)