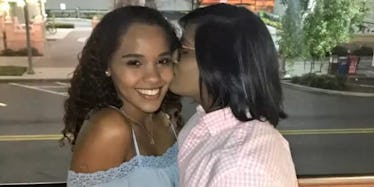 This Girl Was Told She Couldn't Bring Her GF To Prom And Twitter Isn't Having It
Twitter
The land of the free still isn't actually the land of the free, it seems.
The latest proof? A 17-year-old girl named Paula Goodgame was told she isn't allowed to bring her girlfriend to her high school prom.
According to BuzzFeed, Paula Goodgame and her girlfriend Anjali Persad have been dating for just four months, but they were looking forward to attending the highly anticipated event together.
Goodgame's school guidance counselor was said to be the faculty member at the Florida-based St. Petersburg Catholic School who told her she wouldn't be able to bring her girlfriend as her date.
The 17-year-old found out after she was apparently warned by one of her friends she wouldn't be able to bring Anjali with her due to the fact they're of the same gender.
Paula Goodgame then reached out to a teacher at her school, but didn't receive a reply. She then contacted her guidance counselor who informed her of the prom guidelines at the school.
One of the rules states "escorts" attending prom "must be of the opposite gender." Saddened by the news, Goodgame quickly took to Twitter to share it with her friends.
Paula Goodgame's tweet went viral after she said she was told she wouldn't be able to attend prom with her girlfriend.
The 17-year-old spoke to BuzzFeed, saying,
I took the response as a huge surprise because of how rude it was. Especially because it was coming from someone I'm supposed to confide in.
Goodgame went on to say she hasn't been attending the school for that long and she was unaware of the strict rules about prom.
On top of that, she doesn't have many friends yet, and her girlfriend being able to attend the event would have helped out with the awkwardness.
She stated,
I just transferred here and I don't exactly have too many friends, and that added on with the social anxiety of prom makes me feel like prom would be awkward for me. Because of that and news I heard from my friend, I was asking for confirmation if I could bring my girlfriend to prom. That way I could have a familiar face in the crowd and be with my date.
As expected, Twitter is NOT happy with the folks over at St. Petersburg Catholic School.
People immediately began tweeting their support for Goodgame and her girlfriend Anjali Persad.
They're disgusted by the rule.
Some people even wanted to help take action.
There will always be strength in numbers!
Everyone was mostly outraged, though.
Of course, there were a few people in Paula's mentions with opposing views on her bringing her girlfriend to prom.
These points may seem valid.
But this is also a fact.
This guy says she should sue.
Realistically, most people want them to just go to prom together anyway.
Paula and her girlfriend are grateful for all of the support.
Unfortunately, the school still hasn't granted Paula Goodgame permission to attend the prom with her girlfriend. While she waits for more information from her guidance counselor, she'll be attending Anjali's prom first.
Still, she won't be attending her own prom if Anjali can't go with her.
If she can't go to my prom, then that prom is not worth going to. You're supposed to have that whole 'magical' night with someone special, ya know? It wouldn't be worth it without her.
She's right, there's nothing magical about blatant discrimination, St. Petersburg.
Citations: People Are Getting Emotional Over This Girl's Tweet About Not Being Able To Bring Her Girlfriend To Prom (BuzzFeed)