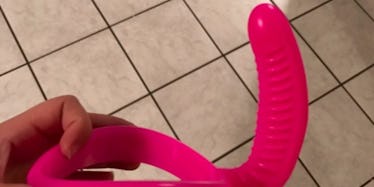 Girl Tells Hilarious Story Of Unwrapping A 'Dildo' From Her Mom On Xmas Morning
Twitter
If there's one present you definitely don't want to unwrap in front of your parents on Christmas Day, it's a bright pink sex toy.
I can't even imagine how embarrassing it must feel to open an object curved like an erect penis in front of my family, but an 18-year-old from New Orleans felt the humiliation firsthand.
Shelby Donovan was mortified when she unwrapped a Christmas present from her mother because she was convinced she was given a dildo.
The resemblance is uncanny.
Yup. If I didn't know any better, I would think that thing is DEFINITELY a dildo!
But as much as the fluorescent pink object looks like it should be sold at the local sex shop, it turns out it's simply a cup holder for Shelby's Yeti mug.
Shelby spoke with Elite Daily about her reaction upon unwrapping the NSFW gift and spoke about how her family was also fooled by the dildo-like cup handle.
Describing the first few moments of opening the present, she said,
When I opened the gift, I opened it upside down. That was unfortunate. I stared at it for a really long time trying to process the gift as ANYTHING other than a dildo, but there was nothing else I could think of. I sat there wide-eyed for a really long time; my family was actually worried.
Shelby continued,
I pulled the gift out of the package and my family all started to laugh because they were thinking the same thing I was. They all started dying of laughter! I was too, only I was laughing half because it was funny, half because I was mortified.
After a few moments of awkward laughter, her mother was confused as to why the entire family was giggling at her gift.
According to Shelby, her mom, Kerri Roberts, said,
What, do you think I'd actually get you a dildo for Christmas? 
Moments later, Kerri grabbed a Yeti mug and put the handle to use. She continued to reassure the family she did not give her daughter a sex toy, and said "It's a CUPHOLDER, Shelby... not a dildo!"
 OOOH. That's a relief.
Talk about a hilarious present exchange -- I'm pretty sure that one will definitely go down in the books.
Apparently, Twitter is finding Shelby's dildo-like mug holder funny, too. She tweeted photos of the object and the tweet already has over 197,000 likes.
Dildo or not, at least her family can take a joke.
Based off one of Shelby's tweets, her grandmother had the funniest reaction out of anyone. Apparently, she said the cup holder was "business in the morning, and fun at night."
I don't think I'll ever look at a mug holder the same way ever again.