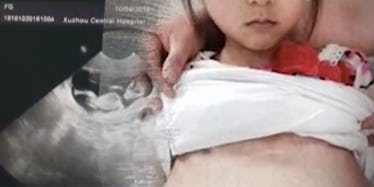 Man, 40, Got A 12-Year-Old Pregnant And Tried To Convince Doctors She Was 20
Metro.co.uk
A pair of scumbags tried to pass a young girl off as a pregnant adult during a hospital checkup, but the staff soon realized she was likely an abused child.
That child is an unnamed 12-year-old girl, who was brought to a Chinese hospital by a 35-year-old man and a 47-year-old woman to get a checkup, according to a report from Chinese outlet People's Daily.
According to Metro.co.uk, the man said this girl was his 20-year-old "wife," and the woman claimed to be the girl's mother-in-law.
The People's report further states that the checkup revealed the girl was 12 weeks pregnant. But, doctors grew suspicious when they noticed the girl's young appearance.
The video below shows apparent footage from the hospital, including images of the child, her ultrasound results and the two adults who brought her there.
The incident reportedly occurred in Xuzhou City, where the staff at the hospital reportedly called the police.
The adults were soon arrested, and police are now investigating the case under suspicion of human trafficking. According to People's Daily, the police confirmed this information on Weibo, the notoriously popular social networking site in China.
As for the clips themselves, well, they're simply shocking, and though the faces of neither the child nor the adults are revealed, just the image of the presumed suspects is enough to make the stomach churn.
Metro.co.uk's report was accompanied by the video, and it states the man is actually 40 years old. Metro also reports the man grew frustrated with the staff's suspicions and lashed out at them, saying,
I took her here to be examined – just do your job. Stop asking so many questions.
Regardless of the age of the man, the disturbing incident looks like yet another sad case of human trafficking, an issue that multiple news outlets have reported on, particularly around the Vietnamese-Chinese border.
In one story chronicled by CNN, a soon-to-be Vietnamese university student went to have drinks with a friend she met online, and the next thing she knew, she was being smuggled into China with a group of other women.
Unfortunately, it looks like this 12-year-old mother-to-be could be a similar case.
Citations: Pregnant girl, 12, brought to hospital by man, 40, who claimed she was his 20-year-old wife (Metro.co.uk), Authorities Launch Investigation into Pregnant 12-Year-Old Human Trafficking Victim (People's Daily), Vietnamese girls smuggled into China and sold as child brides (CNN)