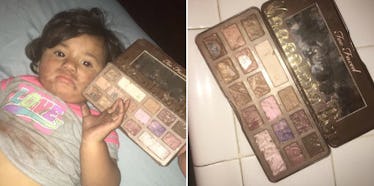 Woman Tweets Hilarious Story Of Niece Mistaking Eyeshadow For Chocolate
This little girl gets me.
I was just lucky I never actually confused something as terrible as makeup for food, unlike the 2-year-old niece of Lauren Rincon.
According to Metro, the 18-year-old Los Angeles resident is a big fan of makeup. So, she picked up a Too Faced Chocolate Bar Eye Shadow Collection palette.
In my opinion, all makeup palettes have that segmented chocolate bar look, but this palette looks and smells like chocolate because it literally has cocoa powder in it.
The Too Faced website said of the palette,
The eye shadows are pigmented with pure, antioxidant-rich cocoa powder and includes 16 matte and shimmer shades of natural browns, delicate pinks and luscious plums.
So, you can imagine what happened when Lauren's niece Kaitlyn came to visit.
I'll let Lauren's hilarious, viral tweets speak for themselves.
Yup, poor little Kaitlyn ate the makeup palette thinking it was a real chocolate bar!
The internet started going crazy with concern for Kaitlyn, but according to Lauren's tweets, she was totally fine.
Lauren contacted Too Faced to see if her niece needed to go see a doctor, but the makeup company assured her Kaitlyn would be fine.
Lauren decided she would take Kaitlyn to the doctor anyway, even if most of the makeup did end up smeared on her face. She even contacted poison control, who assured her diarrhea would be the worst of Kaitlyn's problems.
But this story has a happy ending: Kaitlyn never even got sick at all.
According to Metro, Lauren said,
She is OK, she never got sick or never had any stomach aches or anything like that.
AND, there's a silver lining. Lauren was able to salvage some of the chocolate bar makeup palette!
It seems everything worked out in the end. I'll bet Lauren will be much more careful next time she leaves some expensive, food-looking makeup around her niece.
Citations: This 'chocolate bar' makeup palette looked good enough to eat – so little girl ate it (Metro)