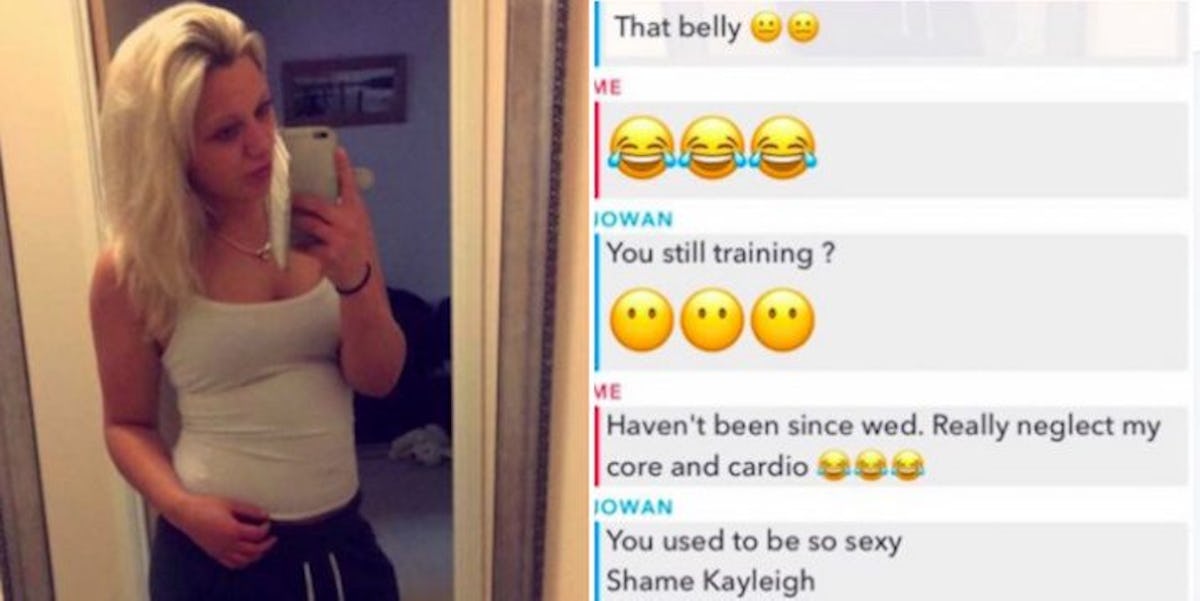 Girl Slams Trainer For Fat-Shaming Her On FB, And Learns She Isn't The First
Facebook
I've never worked with a personal trainer before, but I'm pretty sure they're not supposed to openly suggest you're fat, right?
Like, yes, a trainer is helping you get into better shape, but not at the expense of your own self-worth and confidence.
Unfortunately, 24-year-old Kayleigh Boase had to deal with a personal trainer who apparently never got the memo on that.
Boase recently Snapchatted a photo of herself in her lounge clothes with the caption "comfys on and chill."
Soon after, she received a message from her personal trainer, Jowan Townsend-Trahair, in which he only wrote, "that belly," accompanied by a couple of frowning emojis.
When asked if she was still training, Boase admitted she was neglecting some of her exercise routines.
Townsend-Trahair responded,
You used to be so sexy, shame Kayleigh.
BOY, WHO DO YOU THINK YOU ARE?
Boase decided to blow up his spot on Facebook (rightfully so, if you ask me), posting screenshots of their conversation and writing,
Idiots like this is what causes people to have eating disorders. Only an insecure bloke would try to belittle a woman. So screw you, I'm happy that's all that matters!
YAS, KAYLEIGH, YAS.
Facebook was pretty much unanimously on her side for this.
Her post was flooded with positive messages.
His comments really do just speak volumes about his own character.
I don't even know what "cockwomble" means, but Townsend-Trahair definitely seems like a cockwomble.
Ooooh, but I'm also a huge fan of "saggy ball bag."
The 24-year-old is getting support from people all over the world.
Other personal trainers stepped forward to let her know they're not all as bad as this guy.
But honestly, you don't even need to be a personal trainer to know Townsend-Trahair was absolutely in the wrong for this.
The worst part, though? This isn't his first offense.
The personal trainer seems to have quite the history of saying awful things to women.
Kell Johnson, 22, came forward and told Cornwall Live after she had broken up with one of Townsend-Trahair's friends, he bombarded her with several cruel text messages.
Johnson said,
He is a horrible man and I hardly even knew him. I was seeing one of his friends and then when I ended it he messaged me out of nowhere calling me everything under the sun and saying some really hurtful things.
The 22-year-old even said she had to stop going to the gym, as Townsend-Trahair was working there at the time, and it was too uncomfortable for her to face him after their heated exchange.
She continued,
When I saw what happened to Kayleigh yesterday I couldn't believe that he'd done it to someone else too.
If you were hoping for any semblance of an apology from this guy, don't hold your breath.
The personal trainer reportedly told MailOnline,
I love the attention. Crack-on brother. For the record I wasn't 'body-shaming' anybody. I have already apologized to Kayleigh. This is funny [as fuck] but for now I'm busy bro' so peace out.
Yeah, uh, peace out, bro. Good luck finding clients.
Citations: Personal Trainer Who 'Fat-Shamed' Woman Has The Finger Of Shame Turned On Him (LADbible), Personal Trainer Who 'Fat-Shamed' Woman's 'Belly' Exposed As Sending More Cruel Texts (LADbible), Bodyshamer Jowan Townsend-Trahair exposed for vile Facebook rant at another Penzance woman (Cornwall Live), Woman, 24, reveals shocking moment she is 'fat-shamed' for her 'belly' on Facebook by a personal trainer after he tells her: 'You used to be so sexy' (MailOnline)