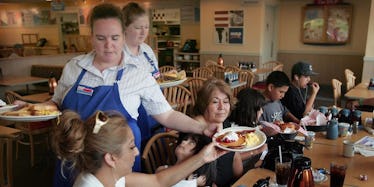 11 Reactions To Free IHOP Pancakes That Perfectly Express How We All Feel
Getty Images
I am fully aware 90 percent of the people who saw this headline dropped everything and ran to the nearest IHOP.
Eight percent clicked just to confirm there really were free pancakes, and the remaining 2 percent must be bored on their commutes to IHOP because, and I don't blame any one of you, there are FREE PANCAKES AT IHOP TODAY!
Yes, I can confirm for you 8-percenters this is a REAL THING in honor of March 8, 2016 being the 11th annual National Pancake Day.
Here's the dizzle: Show up at an IHOP between 7 am and 7 pm today and receive a free short stack of buttermilk pancakes, one stack per guest only. Go early in the day because the offer is strictly while supplies last, and things get real crazy on National Pancake Day.
Now be free, and go get your flapjacks!
And, if you're stuck in a long-ass line for your cakes, check out these tweets from people who are way pumped about this blessed day. I mean, who wouldn't be?! (Besides the poor IHOP workers. Please pray for them.)
1. This guy's ready to go into battle, and he's ready to win.
2. This person definitely knows what day it is.
Guess what today is?? FREE PANCAKE DAY AT IHOP BITCHES — Savage (@Kcielecki7) March 8, 2016
3. Remember to be kind to your servers. Do not forget they hold the fate of your flapjacks in their hands.
4. IHOP Twitter, you are NOT helping keep things calm.
: you down for NPD? : YEAH YOU KNOW ME — IHOP (@IHOP) March 8, 2016
5. Rain or shine, the people are coming for the cakes.
6. It's a great motivation for getting out of bed.
7. It's also a fantastic date idea.
8. Kids, stay in school. (Or, at least go back to school after you get your pancakes.)
9. I think we all know what Justin Bieber would say about this day.
10. Just be careful, fam, not EVERYTHING on the menu is free.
11. Happy National Pancake Day, everyone!