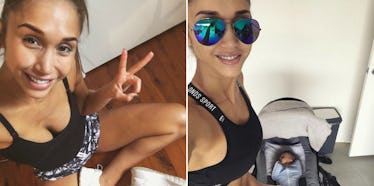 Viral Fitness Mom Posts Pic Showing The Amazing Progression Of Her Pregnancy
Does the human body amaze you? Are you impressed by the idea of a human growing and carrying a smaller human inside of her? Do you love a good chart?
If you answered "yes" to any of the questions above, today is your goddamn day, my friend.
Fit mom Chontel Duncan, whose 8-month-pregnant kickboxing clips and six-pack selfies went viral last month, posted a pregnancy progression series on her Instagram Tuesday morning.
Followers can track Duncan's belly growth from week 19 all the way to week 42, where the fitness model is seen holding her newborn son, Jeremiah.
On her Instagram, she shared,
So happy I did a bump progression shoot! I know it's very hard to see it up close but OMG the changes in my bump from week 37 to 39 is crazy.
The series was shot by photographer Melanie Wilkes, who also shared the finished product on her own Insta, writing,
How cool is being able to see the fortnightly changes… The nine months of excitement, new changes, watching how amazing the human body is.
Unsurprisingly, just two and a half weeks after Jeremiah's birth, Duncan is back in the gym, staying outrageously fit and healthy.
Anyone up for some postpartum Muay Thai?