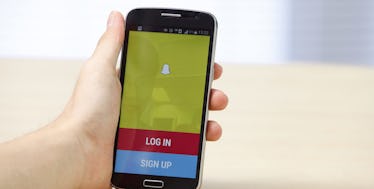 Worst Father Ever Publicly Shames Daughter's Naked Snapchat On Facebook (Photo)
Shutterstock
Readers have come to rely on DudeComedy for (literally) unbelievable stories of awkward encounters.
The latest in the anthology brings us a sweet story of social media shaming.
When Unnamed Dad finds out his Unnamed Daughter posted a risqué Snapchat, he shares the pic to Facebook in the hopes of embarrassing his child into ceasing exposure.
Unnamed Dad even makes a point to use the word "slutness," a tragically underused gem in the modern vocabulary of many.
After all, what is a father for if not to share topless photos of his daughter with the online community? Cue the "Full House" theme song.
Citations: Father Blasts His Own Daughter On Facebook After Brother Screencaps Her Snapchat (DudeComedy)