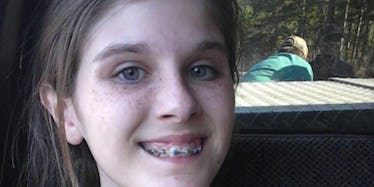 Chilling Pic From Family's Fishing Trip Shows Smiling 'Ghost' In Background
Facebook
Family fishing trips are fun, especially when they're crashed by a ghost or two!
Ha.. ha... ha... I'm not kidding.
This happened to a family during their "Paradise" fishing getaway, and it's actually creepy AF.
Based off a photo Jessica Ogletree posted on Facebook last week, a seemingly friendly spirit was hanging out with her kids while they were on a fishing trip in Tifton, Georgia.
Instead of becoming frightened of the ghoul, the mother posted the picture to Facebook to enlighten the public about the ghostly image, and it's definitely a little unsettling.
In the beginning of the photo's caption, Jessica wrote,
FB FRIENDS CHECK THIS OUT! This picture was taken by my 13 year old daughter earlier today at Paradise (the fishing place) in Tifton, Ga. Notice my son Kolton in the background and then notice the gentleman standing to his right!!!
"Ya'll this gentleman was NOT with them today and there was no one else at these back ponds where they were fishing!"
WTF. DO YOU SEE HIM?!
Take a closer look...
Yup. There he is, looking happy as ever to be the newest addition to the Ogletree family fishing trip.
If his expression wasn't so smiley, I'd definitely be more frightened than I am. But this guy looks like a genuine dude who's just trying to enjoy the day with some local fishers.
Jessica felt the same way, and suggested the "ghost" was happy for her son, Kolton, because it was his birthday and he caught the biggest fish he's ever caught before.
She continued the post,
The only people there today were Haley, Kolton, and their grandparents Dennis and Vera Baldree. Haley was going back through her pictures and saw this and needless to say freaked out and called me lol! I personally think it's pretty cool because today is Kolton's birthday and he caught the biggest fish he's ever caught! It looks like the man is happy for him!
While some have argued on her Facebook comments that the image is "just a reflection," others are truly stumped at the figure and think he's actually a ghost.
It wouldn't be too surprising if this man was an actual spirit because there have been tons of recent "ghost sightings" unexpectedly caught by people taking pictures lately.
This one's the first photo I've ever seen with a clear image of a man, though -- and it's turning me into a believer.