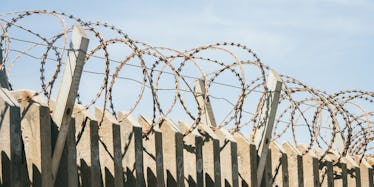 After Escaping From Prison, This Guy Did What All Of Us Would Do
Alejandro Moreno de Carlos
Have you ever had that feeling where you're in prison and just REALLY craving a Yuengling, so you find a way to break out, wander the wilderness for a week and head to a bar to get that sweet, sweet golden nectar?
Me neither, but this guy sure has.
Shaun Higham, 45, did the impossible and escaped from Logan County jail in Paris, Arkansas on June 28 by picking a lock and heading for the hills. The sheriff's department had been searching for him ever since, and the manhunt grew to include several state agencies and the US Marshals Service, according to a Facebook post written by Logan County Sheriff Boyd Hicks.
The search ended on Tuesday night when a tired and hungry Higham peacefully waltzed into a bar about five miles outside of Paris. He was reportedly still wearing his prison uniform and was covered in bug bites when he walked in.
The poor dude just wanted a beer, OK?
A motorist called the police department to report a man who matched Higham's description walking along a road. Then, while police were searching the area, the bar owner called saying Higham was there, casually drinking a beer before willingly turning himself in.
His re-arrest went off without a hitch.
According to ArkansasOnline, Higham was originally arrested for an aggravated robbery charge. Zachary Coffer, 19, was charged with a separate robbery and escaped with Higham, but was re-captured later that day.
Look, I get it. I would've been tired and hungry AF if I had escaped from prison and was on my own in the wilderness for a week, too.
Honestly, I applaud Higham for lasting as long as he did in the (albeit probably VERY unthreatening) Arkansas wilderness. I wouldn't have lasted one night on my own in the woods, let alone a WHOLE WEEK.
I'd be like, "Oh yeah, I'M FREE. I'm gonna go all Chris McCandless on their asses and live off the grid. I CAN DO THIS. BRING ON THE NATURE."
And then half an hour in I'd be like, "Literally, fuck this. Take me now. Just take me. This isn't how I pictured this going down, but you know what? I'm cool with it. Just... just do it. Anything is better than these stupid leaves and bugs and twigs and shit. Are those handcuffs? Great. Can't wait. Lay 'em on me. Take me back to prison so I can have a bed again. Literally, all I want to do is bathe."
So, shout out to Shaun for lasting a week. You deserve that beer, buddy. Drink up.