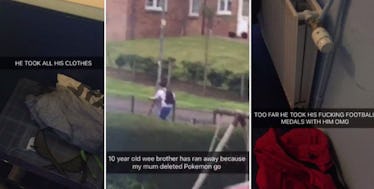 Teen Posts Epic Snap Story Of Brother Running Away From Home Over Pokémon Go
Twitter
All we keep hearing about are the wonderful upswings of Pokémon Go: the drinking games, the unexpected impact on depression and anxiety and the free stuff.
But here's the darker side to our addiction. It involves us running away from home and risking our lives, but in the most hilarious way possible.
This 10-year-old packed up everything he owned – including his soccer medals, so you know it's serious – and hit the streets after his mom deleted Pokémon Go from his phone.
Ten year old little brother ran away from home because my mum deleted Pokemon go pic.twitter.com/YqC4AyNkdG — Stephanie McIntyre (@stephanie_1606) July 17, 2016
His sister caught the whole thing on Snapchat, and posted the story to Twitter.
Maybe he was just about to snare Mew or something, because this little guy is mega upset. The video opens with Stephanie McIntyre filming her bro marching down the street with a backpack.
She captioned the snap, "10-year-old wee brother has run away because mom has deleted his Pokémon Go."
He's pretty committed as well: Watch how these comical scenes unfolded in the sleepy, Scottish neighborhood. It's probably the most excitement the locals have witnessed in quite some time.