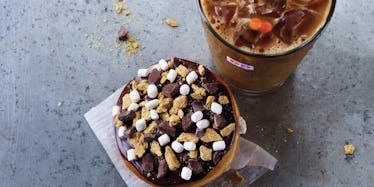 Dunkin Donuts' New S'mores Donut Is the Perfect Treat For Your Summer Campfire
Dunkin' Donuts
Now that summer is officially underway, Dunkin Donuts is here to ensure your outdoor vibes are fully stocked with much-needed treats.
On Wednesday, June 28, the coffee chain unveiled two new donuts which will be available beginning July 3: Chocolate Drizzled Strawberry Croissant Donut and (OMG) S'mores Donut.
These sweet seasonal donuts are bursting with bold flavors reminiscent of everything we all can't help but love about summer.
Can we just talk about the fact a s'mores-flavored donut is about to exist?!
Soon, we'll be able to taste the gooey chocolate, marshmallow, and graham cracker goodness that makes s'mores so amazing in one single, marshmallow cream-filled donut.
Also, get this: The chocolate topping on Dunkin's creation is real Hershey's chocolate.
In a press release, the folks at Dunkin recommend pairing their ode to a campfire classic with their Coconut Crème Pie iced coffee for a "sweet and creamy combination."
Ugh, I'm drooling already.
If s'mores aren't your thing, perhaps you'll want to bite into the Chocolate Drizzled Strawberry Croissant Donut.
This one is flakier and packed with buttery layers and strawberry filling. The light touch of chocolate drizzle on the outside creates the perfect flavor contrast alongside strawberry's tart taste.
It's basically the croissant donut version of a chocolate covered strawberry.
They recommend pairing their new fruit-flavored menu item with their signature cold brew to bring out those chocolate notes.
Um... is it July yet?
In addition to the aforementioned sweet treats, Dunkin Donuts has a few other offerings available throughout the summer, including two new energy drinks, which are available in blue raspberry or strawberry and served over ice.
You'll also be able to pick up two egg and cheese Wake-up Wraps for just $2.
And if you're after a frozen bev, Dunkin's answer to Starbucks' frappuccino, Frozen Dunkin' Coffee, will cost you a mere $1.99 during the warmer months.
I think I'll just move in for the foreseeable future. Sound good, Dunkin?