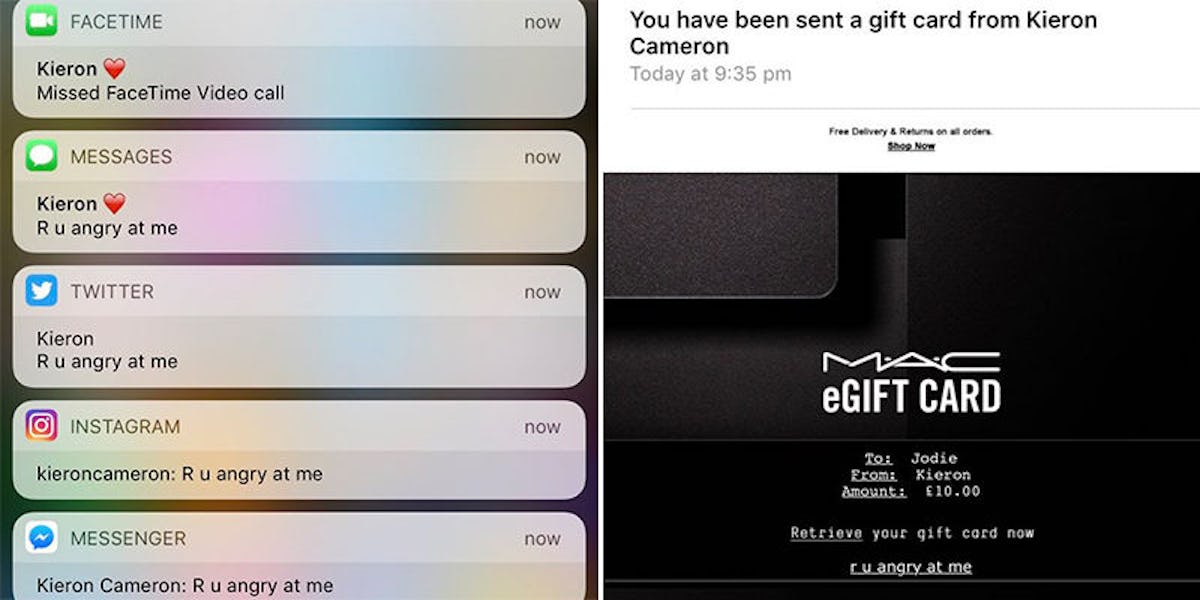 Drunk Guy Who Used Every Single App To Ask His GF If She's Mad At Him Is All Of Us
Kylah Benes-Trapp
We can all relate to this drunk guy who thought his girlfriend was mad at him for something he did that, honestly, is not worth getting mad over.
Kieron Cameron, an 18-year-old from Scotland, went out to a birthday party one afternoon and got drunk, according to Buzzfeed News. His girlfriend, Jodie Duncan, 16, stayed home because she was sick.
Cameron was planning to come home after the party to spend time with her.
He must have felt pretty bad about leaving Duncan alone, though. To make sure she wasn't angry at him, he decided to message her on every single app the two are connected on.
And yeah, he sent her a Mac eGift Card, too. Juuuust to be sure she got the messages.
This speaks to me on a deep, personal level. I've done this. Except I was sober, and it was 2 pm, and instead of saying "r u angry at me," I said "hi." Sorry, babe.
Thankfully, Duncan (and my boyfriend) wasn't mad. "I wasn't angry in the slightest, was just shaking my head at him," she told Buzzfeed News. "I don't think Kieron would've sent me that if we didn't have such a jokey/fun relationship because he knows I wouldn't be annoyed at him about it."
Duncan's tweet about her boyfriend's messages has been retweeted almost 30,000 times and favorited 86,000 times, so clearly, lots of people appreciated Cameron's display of affection.
"I only posted it to Twitter thinking our friends would get a laugh out of it. Loads of people think it's cute and are quoting it saying 'goals' or whatever, which is nice," Duncan added.
Duncan gave her Twitter followers updates on Cameron's condition throughout the night. At one point, Duncan tweeted a picture of Cameron reading "How to Get Sober Faster."
Drink some water and eat some toast, kid. You'll be fine.