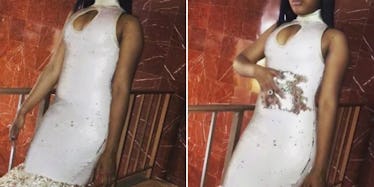 This Dress Changes Color When You Touch It And It's Going Fashionably Viral
Instagram
You remember The Dress that tore friends and family apart? Was it blue and black or white and gold, and why do we care, why are we fighting, tears are streaming down my face.
Thankfully, this dress actually does change colors, so we can all agree it is, in fact, two different designs.
Adonis West, a Miami-based designer, created a dress that changes color by running a hand against the grain of the fabric.
What starts as a white dress transforms into gold, thanks to to reversible sequins.
So, what did your prom dress look like? Mine was a converted sack of potatoes, refashioned to be as shapely as I was in high school.
(This means I was not shapely. I just threw on a potato sack and hoped for the best. Thankfully, there was no "Carrie" reenactment -- otherwise my upcoming 10-year reunion would be very awkward.)
Adonis' sister demonstrates the dresses ability and now, you'll never have to choose between two colors again.
The designer told Seventeen,
I was just thinking about a girl who wanted to walk in one way but come out another way. So, the reversible sequins were perfect.
This is true: I've always wanted to bring at least three outfits and perform an epic costume change like Cher at a prom.
The dress isn't for sale, but it would be worth around $800.
If only I could do prom all over again, there's a few things I would change.
First, I'd cop a dress from the "King of Prom," Adonis.
Second, I wouldn't spike the punch. Third, I wouldn't drink the entirety of the punch bowl. Fourth, I wouldn't try to wrestle the swan in the lake where people were meant to take pictures.
Besides all of that, I wouldn't change a thing...
Oh, fifth, I wouldn't bathe in the chocolate fondue fountain.
Citations: This Incredible Prom Dress Changes Colors With One Touch (Time)