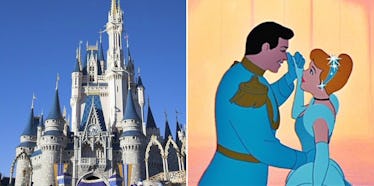 You Can Now Go On A Double Date With Cinderella And Prince Charming At Disney World
REX/Shutterstock/Disney
I'm gonna come out and unapologetically say it: I fucking love Disney World.
I literally went to the parks in Orlando every February for the first 13 years of my life. I have been on three cruises in my life, and all of them were Disney. I sleep with a Stitch stuffed animal every night because he's cute as hell and I'm lonely, LEAVE ME ALONE.
My grandmother is a dedicated member of the Disney Vacation Club. My sister and her husband went on a Disney Cruise for their goddamn HONEYMOON.
And when they announced they were pregnant with their first child (SHOUT OUT TO MA LIL' NUGGET CURRENTLY INSIDE MY SISTER'S WOMB), they did Disney-themed announcements because we're going to Disney again in April.
You think I'm kidding?
LOOK AT MY FACE IN THIS PICTURE. I AM SOBBING BECAUSE MY SISTER IS PREGNANT AND SHE MADE US DISNEY-THEMED SHIRTS TO TELL US.
LOOK AT MY LITTLE SISTER'S AND MY FACES. WE'RE PUMPED ABOUT THE BABY BUT MOSTLY ABOUT THE SHIRTS. (JK, Nugget, u r the light of my life already.)
AND LOOK AT MY FACE WHEN I SAW MY MOM'S SHIRT. SHE IS NOW A GRANDMA — A FAIRY GLAM-MA — AND I SOB WHEN I THINK ABOUT IT, OK?
I'm not fucking around. My family is THAT white family.
(But we're not that white family who has Disney wallpaper throughout their house, Mickey Mouse phones in every room and Disney family car stickers, don't worry. Our love runs deep, but not that deep.)
So now that we've established how much I love Disney and how that love will never die, let's talk about the fact that you can literally have a brunch double date with Disney couples in the parks now.
YEAH. IT'S REAL. IT'S A THING. AND IT'S A BRUNCH.
According to Delish, starting this spring, you and your bae can plan a character breakfast with Disney character couples. Yup, you can literally drink mimosas with Cinderella and Prince Charming and talk shit about the other characters.
I don't think the characters would actually talk shit about their fellow Disney couples, but, like...
Since I'm single as hell, my plan is to have a breakfast with Prince Eric, Prince Naveen and Flynn Rider and then just live my best life.
I don't care if that's not how this character couple breakfast thing works. This is how it's gonna happen.
Well, that's really not how it works, considering the only couples Disney has confirmed you can dine with are Rapunzel and Flynn Rider from "Tangled" and Ariel and Prince Eric from "The Little Mermaid."
But, like, that's TOTALLY fine. Eric is objectively the hottest Disney prince of all time, and you can fight me on this. I will defend this to my death. Just look at this GIF.
This is science. You can @ me.
The breakfast is called the "Bon Voyage Breakfast," meaning it's your last meal before you have to check out of your hotel on your last morning.
The magic happens at Trattoria al Forno at Disney's BoardWalk. And it's surprisingly cheap, coming in at $34 per adult and $20 per kid.
The meal is classic brunch grub, including "Tangled Eggs" and "Two Eggs Poached Under Water." LMAO, get it? Disney humor. You can also order mimosas and bellinis, in accordance with the brunch laws of nature.
Delish reports you can start making reservations on April 2. My family and I (Nugget in tow via Sarah's womb) are leaving for Disney on April 9, so this works out perfectly.
Do you think they'll let me plan a brunch with just me and Eric? Asking for a friend*.
*Me. I am asking for me.
Citations: You Can Now Go On A Double-Date With Disney Princesses And Their Boyfriends (Delish), Dine with Rapunzel, Flynn Rider, Ariel and Prince Eric in new Walt Disney World character breakfast (Inside The Magic)