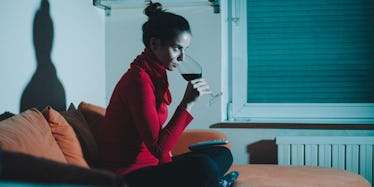 You Can Have Wine Delivered To Your Door With This Popular Food Delivery Service
Has there ever been a combination more heavenly than Netflix and the couch? Add a takeout order into the mix, and you've achieved absolute bliss. But as you're digging into your dinner and making yourself cozy, you've realized you've forgotten something important... the wine. Carbs, sauce, and cheese... but no vino?! Thanks to the food delivery service DoorDash, wine will be dropped off at your door, so assume the snuggle position and wait for the Chardonnay to come to you.
Realistically, pausing a Netflix binge isn't the end of the world, but putting on jeans to go to the wine shop up the block definitely is — you're in your leggings undies, after all. DoorDash takes the pain away from the forgetfulness and will deliver not only Barefoot Chardonnay, but also Sky Vodka, Coors Light, and Smirnoff Vodka right to your digs. That's right: If you're treating yourself to something greasy and feel like opting for a beer instead of wine, you have the option. If there's a cause for celebration, and you'd like a bit of vodka, you've got it.
However, a DoorDash spokesperson tells Elite Daily the most popular nationwide wine order is the Apothic Red Blend.
DoorDash has rolled out this feature in L.A., San Francisco, San Diego, Vancouver, Miami, and most recently, New York -- so if you're in one of these major cities, you're in luck. Revel in the laziness! 
Though a welcomed perk to add to its service, DoorDash is making sure that these options aren't abused. When selecting an alcohol order, the app reminds the Dasher for a picture ID and to put in his or her birthday. The app will then make sure that the person on the ID matches up with the person who placed the order. If the order is skeptical and things don't add up, DoorDash will not finalize the delivery. 
So if you're feeling a bit lazy and forgetful — and you're 21 or over — DoorDash is here to make sure that all of your needs are satisfied for an enjoyable girl's night in.