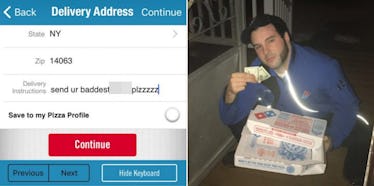 Guy's Domino's Request For 'Baddest' Driver Goes Viral Over Hilarious Reply
Twitter
Before we get to the world's "baddest" delivery driver, I'm going to tell you a funny story about the love-hate relationship I've had with Domino's Pizza in the past.
Let's put it this way: I love Domino's, but Domino's didn't always love me.
To make a long story short, I was banned from ordering Domino's over the phone when I was a teenager. My friends took my cell phone during one of my parties, canceled my order mid-delivery and Domino's didn't forget it.
I was banned from phone orders for years. It was a dark time, my friends. A very, very dark time.
After the entire Domino's debacle, I realized what my friends did to the delivery driver was pretty messed up -- and now, I have a whole new respect for pizza delivery dudes.
However, a guy named Ford recently decided to test his luck with his Domino's delivery -- and had an entirely different experience than me.
While ordering his pies on Sunday, he wrote a request in the "Delivery Instructions" box that could have very well gotten him onto Domino's shit-list.
He wrote, "send me ur baddest bitch plzzzzz."
BE CAREFUL, MAN. THE DOMINO'S "BANNED" LIST ISN'T FUN.
Shockingly, Domino's decided to play along with his hilarious request and sent its "baddest" worker to deliver the pizza.
The delivery man took the request and presented Ford with his order in the coolest way possible.
With a smug look on his face, he flashed a twenty dollar bill and squatted with the pizza boxes in his hand like a true Domino's playa.
He delivered, that's for sure.
To make sure it was the "baddest" Domino's delivery ever, the worker even wrote "we did" under a sticker with the original delivery instructions.
Damn, Domino's!
It's safe to say this delivery guy adhered to the delivery instructions perfectly. I hope he got a decent tip for being the "baddest."
Since posting the pictures of the delivery, Ford's tweet has already received over 91,000 shares and 239,000 likes.
Moral of this story: Domino's is sassy AF -- just make sure you don't cancel an order on the pizza spot.