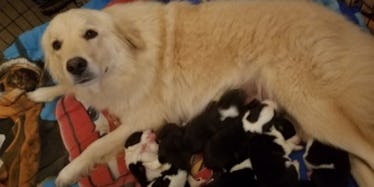 Dog Whose Puppies Died In A Barn Fire Is Taking Care Of Orphaned Puppies
Jessica Woodruff
Daisy Woodruff, a dog living in Roseburg, Oregon, was left heartbroken after she lost all seven of her 3-week-old puppies in a barn fire on Monday, February 20.
Jessica Woodruff, Daisy's mom, said,
We tried to run to the barn, but it was too late. We had to hold Daisy as she tried to run into [it].
This is so sad that not only am I crying, but I also imagine this is the start to a very sad Disney or Pixar movie...
Following the terrible fire, Daisy was still mourning the loss of her babies. Jessica added,
Daisy wasn't really eating, was walking down to the barn whining and sitting down. My heart broke for this new mom — that's all she wanted.
I can't imagine the pain and confusion Daisy must have felt when she realized her puppies didn't survive the fire.
Woodruff, hoping to help out her sweet dog, tried to find foster puppies that Daisy could look after. She had no luck calling shelters or vets, so her sister posted on Facebook. Luckily, Lorna Murphy saw the post.
Murphy reached out to Jessica not long after. Chloe, her dog of five years, passed away not long after giving birth to eight puppies. She believes that it was "fate" she found Woodruff.
Just four days after the fire, Daisy met Chloe's puppies, and she let them nurse "right away."
The puppies will return home when they're weaned, but for now the orphans are making Daisy feel "so much more herself."
Daisy cares for the puppies like they're her own, and she's stopped going to visit the barn.
We're happy this BEAUTIFUL DOG has found a little love after such a terrible accident, and we're sure these orphaned puppies are just as thankful to her.
Citations: This Dog Who Lost Her Puppies Is So Excited To Be Caring For These Orphaned Puppies (BuzzFeed)