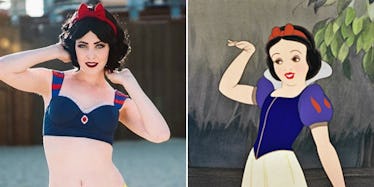 Disney-Themed Bikinis Are Here To Make Your Summer The Most Enchanted One Yet
Instagram/Disney
Growing up, you could describe your entire personality with one key questions. Which Disney princess are you? (Personally, I'm a Belle, meaning I enjoy reading and like animals... And, I guess... man-animal hybrids if we're talking about the Beast.)
Thankfully, since "Beauty and the Beast" is being released so soon, we have no shortage of Disney paraphernalia we want to scoop up.
Despite a blizzard dumping a foot's worth of snow on the East Coast on Tuesday, we are still about to enter swimsuit season.
What better way to show off your bikini bod (or lack thereof -- don't you dare judge me) than wearing a princess inspired swimsuit?
Enchanted Bikinis aren't official Disney merchandise, but who cares? I can finally be part of that world...
While I may not be the fairest of them all, I can act like an evil witch and assume the identity of a princess, right? Like Ursula stealing Ariel's voice.
Just think: You too can wear a couple of seashells covering your breasts, without accidentally drowning in a fake mermaid tail.
Or, perchance, you'd like to avoid all the colors of the cold wind after a dip in the pool while rocking a Pocahontas fringed bikini?
They're reasonably priced, the bottoms cost $35 while the tops cost $45, so don't sleep on this deal. (Wake yo' ass up, Sleeping Beauty. Seriously.)
So let down your hair, Rapunzel, and let the sea breeze give you some beach curls in this suit.
You see where I'm going with this, right? I'm running out of characters and ways I can relate them to swimwear.
Enchanted Bikinis is here for us. Their mission statement reads,
Our mission is to let the princess in you glow and enchant everyone and everything around, when you wear your Enchanted bikini. We believe that every woman can feel this way without putting on a costume.
Basically, they're our fairy godmothers, right?
Citations: STYLE This Disney Princess-Inspired Bikini Line Will Make Your Next Spring Break an Enchanted One (People)