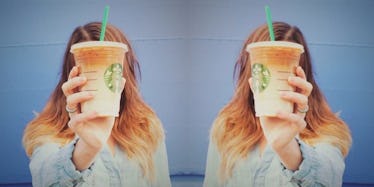 Deaf Woman Orders From Barista At Starbucks Drive-Thru In Amazing Way (Video)
Starbucks' newest ordering feature is making a small but powerful change to the daily lives of members of the deaf community.
Ordering food at a drive-thru window is one of many difficulties for those who suffer from impaired hearing.
For a member of the deaf community, it can be an incredibly embarrassing and an often impossible task to communicate the food he or she wants to order to a drive-thru cashier.
If you have no way of knowing when to start talking, if the cashier heard your purchase incorrectly or if you have no way to effectively communicate your order at all, the process can be frustrating.
That may change in the near future as Starbucks is now starting to roll out video-call technology at its drive-thru windows to help members of the deaf community order from their cars.
Rebecca King of St. Augustine, Florida uploaded a video to Facebook of her using one such device with college student and American Sign Language-trained barista Katie Wyble.
Starbucks! This is what I'm talking about! ❤️Share it away! We can change the world! :) Posted by Rebecca King on Tuesday, November 3, 2015
YES, STARBUCKS. YES!
Wyble told Action News Jax,
I think more people need to know about what [Starbucks is] doing because it moves customer service to a whole new level. I hope it helps make more people aware of what they can to do serve others in their communities.
Though it is unclear exactly how many Starbucks chains have this technology, the mechanism has been slowly popping up at fast food chains over the past few years.
Culver's, a fast food chain in the Midwest, was reportedly the first to offer some form of ordering assistance to several of its drive-thru windows back in 2010.
Subway also recently unveiled touch screen ordering options with the potential to make drive-thru purchases easier for the deaf.
An enthusiastic King told First Coast News,
It is a big deal to [the] deaf community that Starbucks has one now... We all want to have that at every drive-thru in the world.
Get on this, every other fast food chain!
Citations: Deaf Woman Captures Remarkable Encounter At Starbucks Drive Thru (Huffington Post), Deaf woman's video at St. Augustine Starbucks goes viral (Action News Jax), St. Augustine Starbucks barista signs with customer (First Coast News)