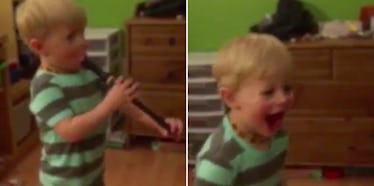 2-Year-Old Deaf Boy Hears Recorder For First Time, And It's Adorable
Daily Mail
Normally I don't enjoy anything that involves small children playing recorders, but this deaf two-year-old playing one is definitely an exception.
Ezra Somnitz from Orient, Ohio has been legally deaf since he was born due to a genetic condition. According to his mother, he can only hear loud, high frequency sounds such as the instrument of the devil, aka the recorder.
Ezra obviously has a blast playing his recorder, laughing with delight every time he gets a sound out of the pipe. It's very, very cute.
In fact, Ezra loves that recorder so much his mom says she has to hide it now to "preserve [the family's] sanity."
Sign Ezra up for the fourth grade band class ASAP!
Citations: Music to his ears: Heart-warming moment deaf little boy can't control his excitement (Daily Mail)