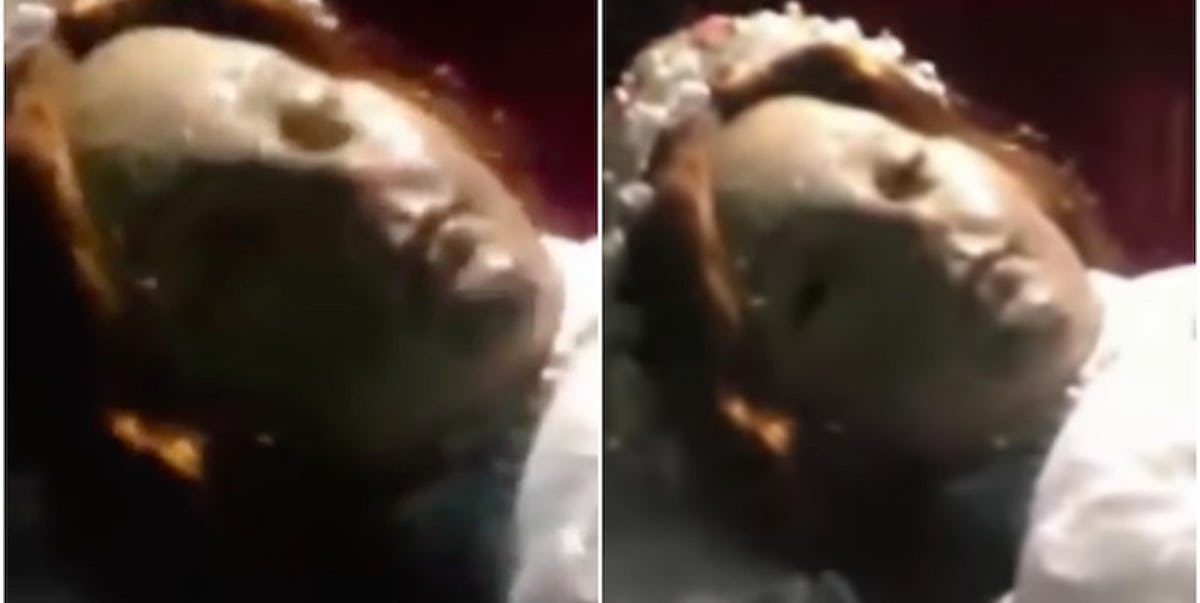 Horrifying Video Of Dead Saint 'Opening Her Eyes' Will Give You Nightmares
YouTube
Think of this as an early Halloween present from all of us here at Elite Daily. But it's one that will leave you sobbing in fear, thereby making you never want to celebrate the spooky holiday EVER AGAIN.
It's a video of a 300-year-old dead child.
Wait: There's more.
She's a bit of a celeb. Legend has it, St Innocence here took First Communion against her father's wishes.
So (naturally), the dad allegedly got super pissed off about the whole thing and stabbed her to death. (I don't know about you, but that punishment seems a bit extreme to me.)
Now, she lies in a glass coffin inside the Cathedral of Guadalajara in Mexico, and has become somewhat of a tourist attraction.
Some visitors like to film her because they're weird and into that sort of thing.
But the guy behind the camera probably didn't expect this to happen:
WTF?! DID YOU SEE THAT?!
Oh, hell no. That kid just opened her eyes, and I'll probably never sleep well again. The curse is real.
And forget about trying to get into the spirit of Halloween in advance. I wanted a Hillary Clinton mask, but now, I don't think I can stomach walking through those costume sections of horror.
I think I'll just stay home and watch a comedy: "Dumb and Dumber" sounds good.
The video was posted on YouTube. But even though it's scary AF, some people are pretty skeptical.
One person commented,
Requirements to record a paranormal event: to get the cheapest possible camera, set it to have the lowest quality, remove any lighting that can help to look good and of course, while recording is important not to move the camera.
BTW, this video is like "The Ring." So good luck with that dead girl showing up in your living room tomorrow.