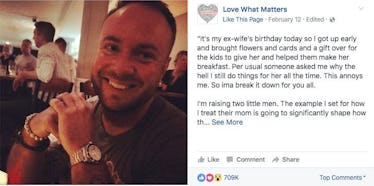 Dad's Refreshing Post On Why He Still Does Nice Things For Ex-Wife Goes Viral
Facebook
In a culture where trashing your ex once the two of you are broken up is pretty standard, this divorced dad is totally breaking the norm.
Billy Flynn Gadbois surprised his ex-wife on her birthday by bringing her flowers and cards and helping their kids make her a special breakfast.
Uh, is it possible to be #relationshipgoals when you're broken up?!
Gadbois shared his awesomeness with the Love What Matters Facebook page, where his post has now been liked by over 700,000 people.
While many divorced couples can hardly even stand to be in the same room together, he takes the initiative to maintain a healthy relationship with his ex, not for her sake or even his own, but for their two sons.
He broke it down perfectly in the Facebook post:
I'm raising two little men. The example I set for how I treat their mom is going to significantly shape how they see and treat women and affect their perception of relationships.
*Swoons face-first into my keyboard.*
As much as we'd all like to indulge in the fantasy that separated couples will one day reunite, Gadbois represents a far more realistic portrayal of what a divorced family can, and should, look like.
This awesome dad may seem perfect now, but as he admitted to Indy100, the divorce was a little rocky in the beginning:
We had things to overcome on both sides to be able to set our own crap aside to focus on the kids instead of our own anger and resentments. It's not easy, but it can be done!
Gadbois explained that, even though it's definitely been hard to establish certain boundaries with his ex-wife, they're both keen to leave any issues at home when it comes to their children.
Even better: the respect between them doesn't just go one way. According to Today, Gadbois's ex-wife makes sure their little men, ages 4 and 8, have a present ready for him, too, on Father's Day.
#RelationshipGoals. #ParentGoals. #EverythingGoals.
Citations: This divorced dad's brilliant post about his ex-wife is going viral - for all the right reasons (Indy100), Dad's touching explanation for why he still helps his ex-wife after divorce (Today)